Employment
You don't need us to tell you that employment law can be a minefield.
A single mistake can cost a business dearly – both financially and reputationally. That's why it's important to choose an experienced law firm that invests in getting to know your business inside out.
Getting us involved at an early stage can make a real difference, allowing us to manage issues before they become big problems. But if issues do become problems, we have years of experience advising in the most complex and challenging employment disputes.
Described in Legal 500 UK as providing "a first-class service in every respect," our clients tell us they consider us an extension of their team and value our ability to provide strategic employment solutions that balance commercial and legal issues. We will work alongside you and your teams to help upskill and develop internal capabilities.
We'd love to talk about all the work that we do, but much of the work our clients trust us with is commercially sensitive or confidential. We are trusted by our clients to manage and resolve issues that are frequently time-critical - balancing legal, financial, reputational and emotional considerations.
Whether you are looking for help reviewing contracts, policies and procedures, managing change, or need immediate advice on litigation and employment issues, we're here to support you.
See our employment specialisms
Strategic planning and reorganisations
Employment contracts, policies and procedures
Business immigration law, work visas and sponsor licences
Employment tribunals
High Court disputes, including enforcement of confidentiality obligations and post-termination restrictions
TUPE transfers/transactional support
Industrial relations
Executive severance
Settlement agreements
Redundancy
Secondments
Pay and benefits
General HR-related documentation
Equality, diversity and inclusion
Employment advice retainers including insurance protection
Training
The Employment Team continue to be the most personable and supportive in the North East. They will always strive to provide individual support which is objective yet understanding, demonstrating an exceptional level of expertise in their field.

Building strong networks with local organisations and facilitating a variety of forums to help engage and share updated information relative to employment law I feel is one of their unique strengths which has helped them establish the strong and credible reputation they hold.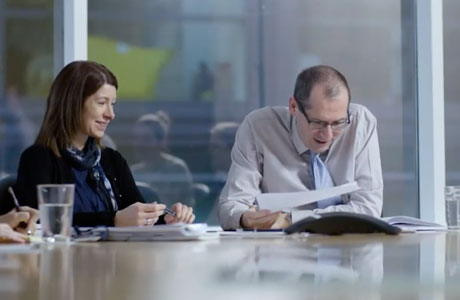 How can the Muckle Employment team help your business?
Chris Maddock and Amy Sergison talk about how our Employment team can help you and your business by providing practical employment law advice.
Watch Video
All Videos
Our specialist team can help you succeed
We're based in Newcastle upon Tyne, but our people live across the North East and Cumbria, helping clients nationwide. Get in touch today and see how we make a difference.