Are you right for us – and are we right for you?
If you happen to be reading this section of our website out of anything more than idle curiosity, then chances are you're already contemplating what life might be like as a part of the Muckle team. So you'l
l doubtless be pleased to learn that we're always on the look out for clever individuals who want to get their careers off the ground; promising talent that's hungry to be given a genuine opportunity to shine; and established players who are ready for that big step up. Be it as a member of our legal team, client services team, or business support team, if we think someone could be a real asset we are rarely shy about recruiting.
But what might make us interested in talking to you?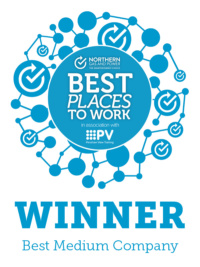 Well, no matter what stage you might be at in your career there are two things you're going to need plenty of if you want to work here. The first is attitude, the second is personality. If you're lucky enough to have both then you could be just the kind of person we love to have onboard.
And if you're wondering what, exactly, we mean by personality, the simple answer is not stuffy. Not bland. Not 'expected'. Unlike a lot of legal firms, Muckle is full of bright, enthusiastic, articulate, colourful, confident people. People with something about them. People who relish the prospect of a challenge and get out of bed each morning looking forward to the cut and thrust of another working day.
So, if you think you could enhance our team we'd be delighted if you got in touch. Our graduate recruitment programme is one of the best in the business, we offer competitive reward and recognition packages, and we pro-actively invest time to support, train and develop the people we bring into the fold. As if that wasn't enough to get you polishing your CV, outside the office we couldn't, quite frankly, think of a better place for someone to want to live than right here in a part of Britain that's renowned for its personality.
Still interested? Then let's talk. You can get the ball rolling by emailing us at [email protected]