We're always on the look out for clever individuals who want to get their careers off the ground; promising talent that's hungry to be given a genuine opportunity to shine; and established players who are ready for a new challenge. Be it as a member of our legal team, client services team, or business support team, if we think someone could be a real asset we're not shy about recruiting.
Are we a match?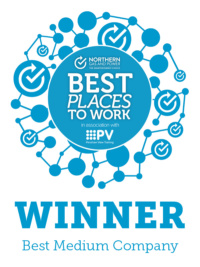 Well, no matter what stage you might be at in your career there are two things you're going to need plenty of if you want to work here. The first is attitude, the second is personality. If you're lucky enough to have both then you could be just the kind of person we love to have onboard.
Muckle is full of bright, enthusiastic, articulate, colourful, confident people. People who relish the prospect of a challenge and get out of bed each morning looking forward to the cut and thrust of another working day. People who live and breath our core values:
trust – we trust each other to do the right thing
teamwork – we are one team and work selflessly for each other
responsibility – we are self-starters and take responsibility for how we work together and communicate
care – we care about our people, clients and community
And here you can see what our values mean to us.
What we offer
We offer bespoke programmes for graduates and apprentices and competitive reward and recognition packages for all. We pro-actively invest time to support, train and develop everyone the people we bring into the fold. That, along with our fun workplace sport and social scene, have helped to create an award winning culture. Not only do we hold both Investors In People Gold and Health & Wellbeing awards, we have also been voted one of the North East's best places to work.
Want to be part of this?
Then let's talk. To get the ball rolling just email [email protected]