Muckle advises North East technology company Aspire on £85m growth investment deal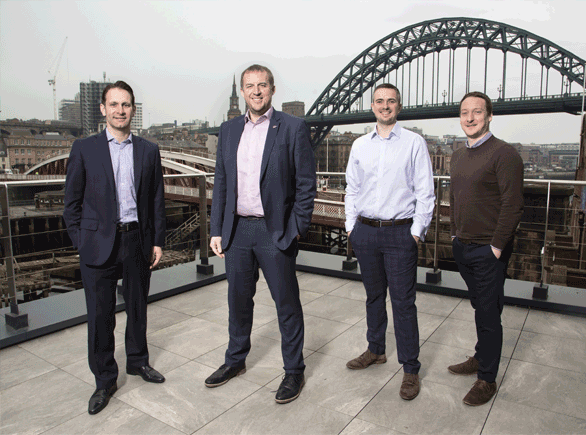 We're pleased to have advised a market-leading North East technology company on an £85m growth investment deal.
Former North East Company of the Year, Aspire Technology Solutions, has secured a significant minority investment from mid-market private equity firm LDC, in a deal that values the business at £85m.
Experts from our specialist Corporate and Banking teams provided legal advice to Aspire on the transaction. Philip Clare, Corporate Partner, led the deal, working with Corporate Associate Stuart Grieve, Corporate Solicitor Hayden Richards, and Partner and Head of Banking Louise Duffy.
Aspire, our longstanding client, is one of the fastest-growing IT managed service and cyber security providers in the UK. Launched 15 years ago by CEO, Chris Fraser, Aspire has offices in Gateshead, London and Stockton-upon-Tees, and the business employs more than 200 people.
Driving regional growth
Aspire is currently delivering plans to create more than 150 North East jobs across its recently opened HQ, based on the site of the former iconic Baja Beach Club at Gateshead Quays, and a new base at Fusion Hive, a business and innovation centre based on Stockton's Northshore.
With a large network of UK customers, Aspire delivers technology solutions across a range of applications including cloud, connectivity, voice, technical support, and cyber security. Its full fibre network provides bandwidth speeds of up to 100 gigabits per second – some of the fastest connectivity speeds available in the UK.
The business has scaled rapidly with revenue rising to £30m in the last 12 months of trading, growing more than 48% over the past three years.
LDC's partnership will support Aspire's management team, led by Chris Fraser, to pursue organic growth and acquisition opportunities. The management team is aiming to broaden the business' suite of services and expand further into markets across the UK.
Trusted advisors
Philip Clare, Corporate Partner at Muckle LLP, said: "As a leading law firm for businesses, it has been great to work with Aspire over the years and to see it go from strength to strength. This is a fantastic deal for the North East, with a sccessful regionally-based business securing significant investment from a national fund with a local presence.
On behalf of everyone at Muckle we wish Chris and the Aspire team, as well as the team at LDC, every success with this investment and we are looking forward to watching Aspire's continued growth."
Chris Fraser, CEO at Aspire Technology Solutions said: "We have worked with the Muckle team for a number of years now and we trusted them to get this deal done. The team led by Philip and assisted by Stuart, Hayden and Louise were responsive, commercial and really helped to drive the transaction over the line. The investment marks a new chapter for Aspire which will enable us to move to the next level. It's such an exciting time."
Gareth Marshall, Partner and Head of North East at LDC, said: "Aspire's growth, especially over the past three years, is a true testament to the ambition of Chris and his team. Together, they have created a market-leading tech business tha he local community here in the North East is incredibly proud of.
"We can see a real opportunity to support the growth of Aspire across the UK and we're excited about working with the management team to deliver on this."
To find out how we can help your business, contact Philip Clare on 0191 211 7971 or [email protected]