The future looks bright: introducing Muckle's newest promotions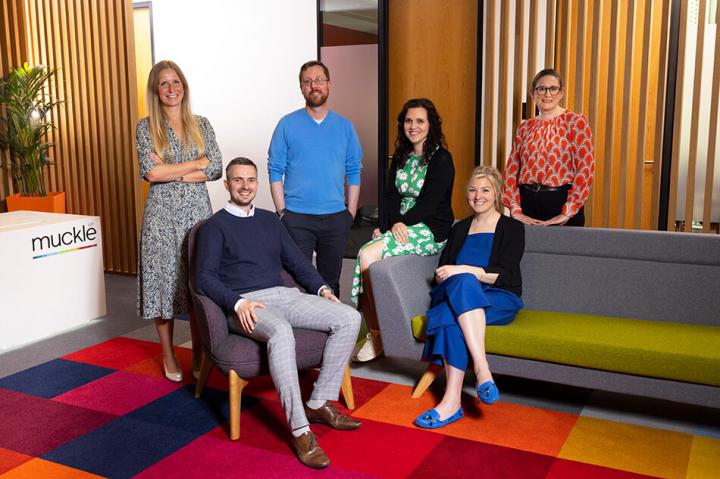 We're pleased to announce six promotions, including three partners: Charlotte Patterson-Ryan, Sarah Barratt and Chris Hook.
Alex Speirs becomes senior associate, whilst associate positions go to Hayden Richards and Philippa Walker.
New partners
Charlotte Patterson-Ryan is tipped as a 'Rising Star' by Legal 500 UK and 'Associate to Watch' by Chambers and Partners. She specialises in rural property and landed estates and deals with a wide range of issues arising from diverse property portfolios. She becomes a partner in the firm's fast-growing agriculture, estates and rural property team.
Sarah Barratt joined the firm in 2018, and with expertise covering all manner of residential and commercial property disputes, she is recognised as a 'Rising Star' by Legal 500 UK. Sarah becomes a partner in the top-tier real estate dispute resolution team.
Chris Hook becomes a partner in the sports, education and charities team. Legal 500 UK recognises him as a recommended lawyer for his specialisms, which include new charity formations, fundraising, restructures, mergers and regulatory compliance.
New senior associates
Alex Speirs has become a senior associate in the dispute resolution team.
Since joining the firm in 2016, experienced Legal 500 UK has recognised litigator Alex on numerous occasions as a 'Rising Star'.
She deals with a broad range of disputes for corporate clients and individuals in relation to contentious issues, including shareholder disputes, professional negligence, intellectual property and commercial contracts.
New associates
Hayden Richards and Philippa Walker have both been promoted to the role of associate – Hayden in corporate and Philippa in real estate.
Philippa joined the firm in 2018. As a property specialist, she acts for commercial banks and bespoke commercial lenders on a wide range of property transactions including high-value commercial and residential development sites.
Having begun his career at Muckle as a paralegal in 2016, Hayden completed his training at the firm and was shortlisted for 'Young Lawyer of the Year' at the most recent Insider North East Young Professional Awards. As an associate in the corporate team, Hayden advises clients through business sales and acquisitions, private equity deals and corporate reorganisation.
Supporting growth
Jason Wainwright, managing partner, said: "I'm delighted to see Charlotte, Sarah and Chris promoted to partner in recognition of their individual contributions to the firm.
"It's fantastic to see Alex, Hayden and Philippa receive well-deserved promotions too.
"These six promotions reflect the hard work, expertise and enthusiasm these lawyers have shown. Many of them have been with the firm for a number of years and it's a privilege to watch them craft their careers with Muckle.
"We pride ourselves on nurturing talent from within, so recognising the commitment of homegrown talent with reward and development is very important to us at Muckle.
"I look forward to supporting Charlotte, Sarah, Chris, Alex, Hayden and Philippa as they continue on their individual paths as remarkable lawyers."
For more information about careers at Muckle, visit our careers page.