Apprentices set to raise the bar for legal profession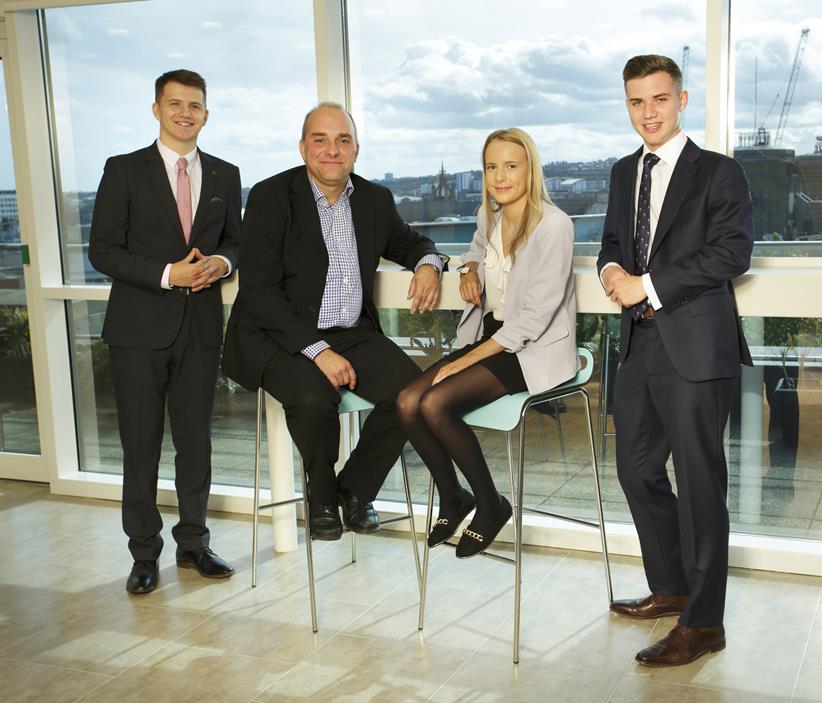 We have reaffirmed our commitment to supporting the region's young talent by welcoming three new solicitor apprentices to our team here at Time Central, Newcastle.
The successful candidates are 18-year-olds Joe Torre, Anna Douglas and Ben Evans. Joe currently works in our commercial and employment team, Anna has joined real estate litigation and Ben has started his legal career in real estate.
Muckle leads the way
We led a consortium of six North East law firms
in establishing the North East Solicitor Apprenticeship (NESA) scheme, an alternative, university fees-free route to becoming a qualified lawyer. It is also the first time a consortium of UK law firms have worked together to form a regional apprenticeship programme for solicitors in the UK.
During the six-year scheme, the apprentices will obtain a law degree and the postgraduate qualification and work experience required for admission as a solicitor. We will pay the apprentices a salary, as well as funding their academic studies.
Apprenticeship levy
Since April 2017 employers have been required to pay 0.5% of their pay bill to the Government if their payroll exceeds £3m per year. This levy can then be used to fund apprenticeship training and, in this case, means aspiring solicitors can have the opportunity to qualify while working without paying university fees.
Managing Partner, Jason Wainwright said: "We are delighted to be providing an apprenticeship route for solicitors, after three years of planning and preparation. We identified early that there was a real danger that the legal profession was missing out on talented young people due to the burden of university debt and that many were being tempted towards the apprenticeship route offered by other professions."
"As a business, we are passionate about supporting our community, so welcoming these bright, talented and ambitious people on board is fantastic for the whole firm. I am looking forward to working with and watching them grow and develop over the next six years."
Forward thinking firm
Commenting on his apprenticeship, Ben Evans, from Durham, said: "The rising fees have made university an increasingly unattractive option and I am not sure that I would have chosen this career path had it not been for this apprenticeship route.
"It is an incredibly exciting and unique chance to work and study at the same time. Muckle's modern office, attitude and forward thinking meant it was always my first choice."
Joe Torre, from Newcastle, added: "Securing an apprenticeship at Muckle is a great opportunity. I really am grateful for the chance to learn professional skills on the job and be part of such a successful city law firm."
Anna Douglas, of Low Fell, Gateshead, said: "I chose the apprenticeship route due to the invaluable work experience I will gain alongside my studies with the support of top solicitors at Muckle.
"During my selection process, the ethos and culture at Muckle really stood out. People were happy to help and were extremely supportive and friendly."
"I'm a keen sportswoman outside of work and I was also impressed by the range of healthy living initiatives on offer at Muckle. I'm definitely going to join the workplace running club, 'The Muckle Runners'."
Equal opportunities
Nurturing North East talent and championing equal opportunities has been a focus for Muckle for many years. The firm established its Inspiring Careers programme in 2012 to give sixth form students a taste of life in a law firm, showing that it can be accessible to everyone. Establishing NESA and hiring the first solicitor apprentices has taken this idea to the next level.
Jason Wainwright, said: "I strongly believe in helping young people, who might be put off by the costs of higher education, to have the opportunity to enter the profession.
"With the Government's drive to establish three million apprenticeships by 2020, this is our way of ensuring this profession is open to all talented people and that students can earn as they learn."
For more information on our solicitor apprenticeship scheme contact us on 0191 211 7777.