Senior partner raises over £6,000 for justice charity in half marathon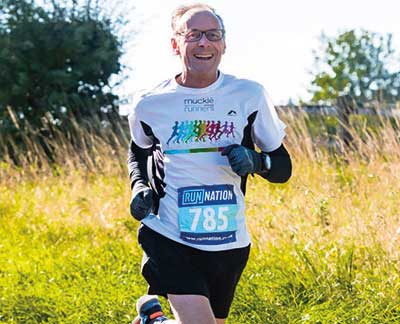 Our senior partner, Hugh Welch, has raised an incredible £6,000 in his continued quest to help raise awareness and much needed funds for voluntary 'pro bono' work within the legal profession.
Competing in the second-ever London Landmarks Half Marathon alongside over 13,000 runners, Hugh recorded a time of 1 hour and 29 minutes - averaging an impressive 6 minutes and 47 seconds per mile.
Fastest in his field
He came 120th out of all the runners taking part and was 1st in the over 60's category.
The sponsorship money raised was contributed by clients of Muckle, work colleagues and friends and will go towards helping vulnerable people throughout England and Wales gain vital access to justice.
Speaking about his fundraising and impressive time Hugh said: "It was such a privilege for me to be accepted and to be given the opportunity to run in the London Landmarks Half Marathon.
Powered by generosity
"To raise over £6,000, which was donated by generous clients of Muckle, colleagues and friends, was very humbling and I was spurred on by their generosity and support.
"It was also very pleasing to record a quick time and complete the course along with other like- minded lawyers raising money for Advocate.
"I am passionate about equality and justice. For me, access to justice is every bit as important within our society as access to education and healthcare. It's fundamentally wrong that people who can't afford it are denied access to legal advice and to the court system.
"Also, like many other legal practices, our lawyers at Muckle are very active in doing pro bono work and we see this as a key part of our commitment to this region."
Advocate
encourages and facilitates voluntary work by lawyers and others working in the legal sector in their local communities.
Grateful for support
Mary Dobson, Head of Fundraising and Communications, at Advocate said: "We are delighted to have chosen Hugh as one of our 10 participants to represent Advocate in this, the first year we've partnered with the London Landmarks Half Marathon.
"We want to say a huge congratulations to all the team runners representing Advocate and we are so grateful for all your support and determination which means so much to those who desperately need access to justice.
"Our ten participants have raised thousands of pounds and much needed awareness for our work getting free legal help for really vulnerable people facing court alone in England and Wales."
The race started on Pall Mall and finished by Downing Street and took in fabulous views of London's most iconic buildings including Big Ben, St Paul's Cathedral, Nelson's Column, the Gherkin, the Shard, the Tower of London and the London Eye and of course the Royal Courts of Justice in the Strand.
If you'd like to follow in Hugh's footsteps and take on the London Landmarks Half Marathon 2020 to help fight for access to justice, email the Advocate team at [email protected] to register your interest.
Click here to find out more about Hugh Welch's half marathon fundraising drive and click here to learn more about our commitment to being a responsible business.