Muckle LLP advises Durham tech start-up on major investment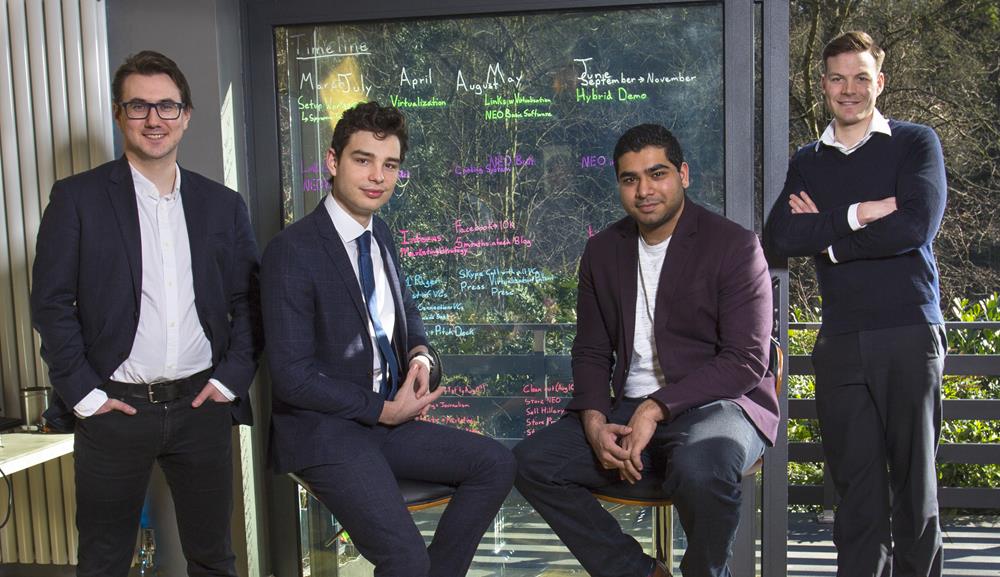 Our corporate team has advised Durham-based Fumarii Technologies on a significant investment deal to help develop and launch its new cloud platform and computers which could revolutionise the technology industry.
Silicon Valley style start-up
Fumarii Technologies was founded by Durham University graduate Liam Gill. By using its cloud platform and technology to turn any screen into a supercomputer, the business aims to help individuals and small businesses access digital resources that are typically only available to large firms.
Fumarii has been described by partners as a 'Silicon Valley' style business. Among a range of products, the team is developing their Fumarii Cloud which will allow people to remotely access supercomputers for a small monthly or hourly fee.
Revolutionary products
Following two previous rounds of investment, the team has been able to develop the software and technical capability needed to build its first unit. With its latest injection of funds, Fumarii hopes to launch its revolutionary products to the market by the end of 2019.
Unlike other cloud providers, however, Fumarii has made a concerted effort to lower the environmental impact of their system with the invention of the Fumarii NEO, a computer server which can capture and store the heat it produces.
Top tech for all
Liam Gill, Chief Executive Officer of Fumarii Technologies, said: "Small businesses are the backbone of our economy. 99.3% of private companies in the UK are small businesses and, with technology an integral part of almost every sector, it is key that these businesses have access to the tools necessary to succeed."
"For too long key technologies have only been available to large companies leaving freelancers, start-ups and small businesses without the resources needed for success.
Empowering SMEs
"I truly believe that ordinary people, with a vision or a cause, can accomplish extraordinary things when provided with the right resources. Our work at Fumarii has the potential to provide millions of entrepreneurs and small business owners with the resources they need to survive in this digital world.
"From concept to design and manufacture, we've worked really hard over the last 20 months or so, and it's fantastic to be able to receive these investments. We wanted to complete the latest investment within 24 hours and I was impressed with Muckle LLP's ability and flexibility in delivering this on time, helping us to realise our vision.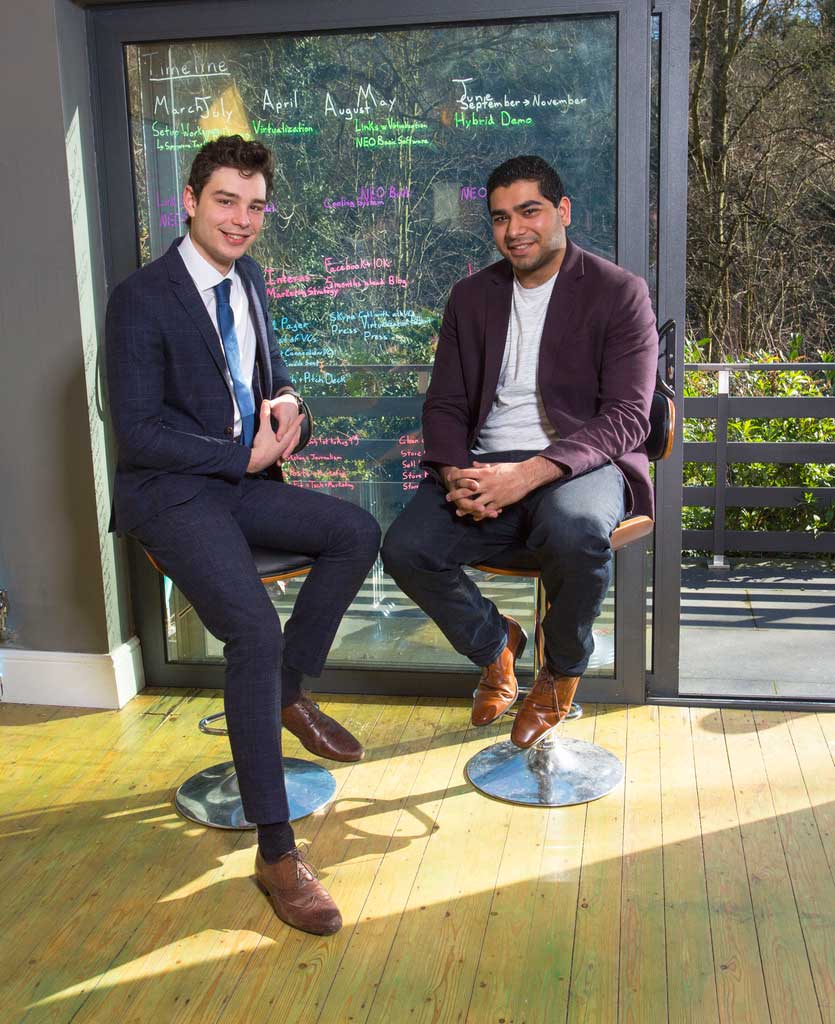 Rhys Birkinshaw, CTO, and Liam Gill, CEO at Fumarii Technologies HQ
"Currently the top 10 startup industries are FinTech, BioTech, Artificial Intelligence, Gaming, AdTech, EdTech, CleanTech, Blockchain, Advanced Manufacturing and Cyber-Security. All of these industries require extensive computing resources and with the average startup only having $10,000 in funding, it's not surprising that a vast majority of new companies fail.
"It means the world to us that our technology can have a role in new innovations for generations to come. No longer will a freelance artist be held back by their tools, or an architect or engineer stuck with outdated computing. We're especially proud of the environmental and social benefits that our technology will bring. There genuinely is nothing like this on the market that can support business and domestic consumers alike."
Tech specialist legal support
Muckle has a strong track record in supporting technology businesses and we were referred to Fumarii through our partnership with Sunderland Software City, established to develop world-class technology businesses across the North East. The fast and flexible legal advice Liam referred to was provided by Harry Hobson and Adam Rayner in our corporate team.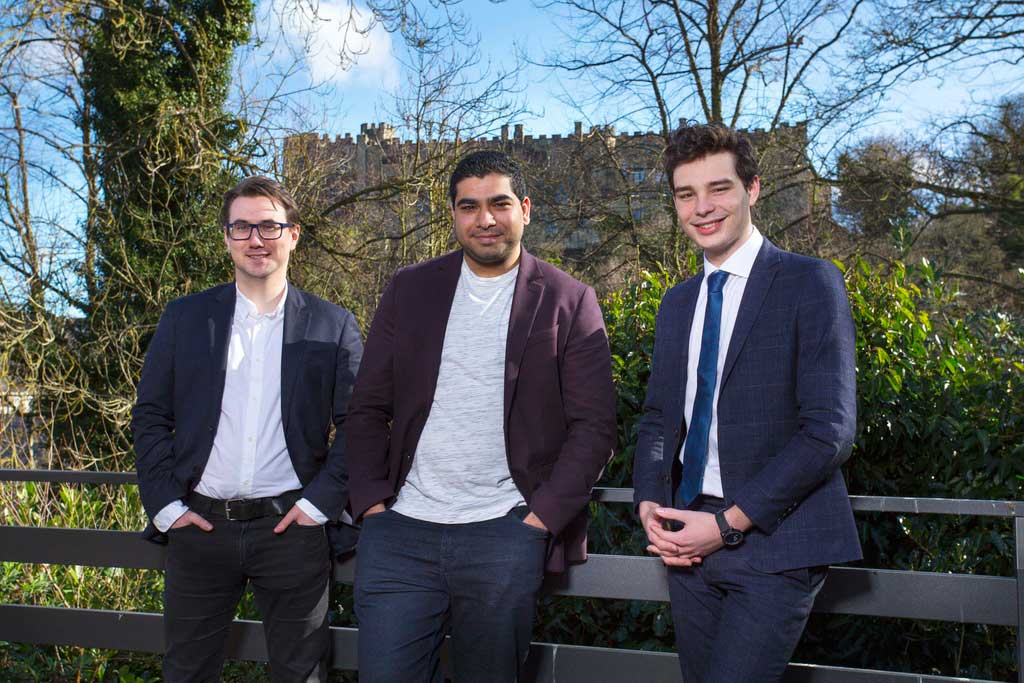 Harry Hobson, Solicitor, with Rhys Birkinshaw, CTO, and Liam Gill, CEO at Fumarii Technologies HQ
Harry Hobson said: "We're delighted to help Fumarii achieve the funding they needed. These are considerable investments for a company of this size, which will help to revolutionise the technology industry.
"With the support of Sunderland Software City, the North East is already developing a reputation as a global leader in the digital and tech sector. Liam and the team at Fumarii have created something truly innovative and, with the backing of these recent investments, I'm sure this is the start of something incredibly exciting for the business, the sector and the region."
To learn more or for help with your corporate or technology legal needs, please call Adam Rayner on 0191 211 7962 or email [email protected]