Muckle's dealmakers celebrate multiple wins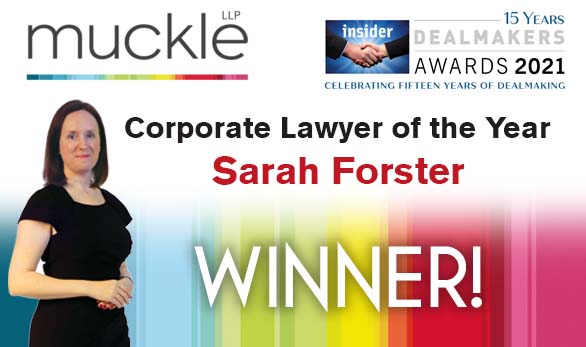 It was another big night for our team at the 2021 Insider Dealmakers Awards with the highly sought-after Lawyer of the Year award going to Sarah Forster, a partner in our corporate team. In addition, our client's deals landed deal of the year awards in both the under and over £10m categories.
Lawyer of the Year – Sarah Forster, Muckle LLPSarah's work on some of the region's most significant deals really impressed the judges. This included the Kitwave Group's IPO, Fairstone Group's acquisition of 14 IFA businesses, and the sale of Brunton Nursery. Sarah's ability to deliver high-profile IPOs, regional private company disposals and acquisitions helped Sarah land this prestigious award.
Deal of the Year (below £10m) – Acquisition of Stirling Solutions by Mandata GroupWe advised on this bolt-on acquisition funded with support from LDC and Santander. This stand-out deal has seen Mandata take on more staff and ensures the company is well-placed to help customers thrive as UK transport becomes increasingly digital.
Deal of the Year (above £10m) – Kitwave IPOKitwave, a wholesaler that specialises in delivering impulse products, frozen and chilled foods and groceries, was admitted to AIM with the help of our team. The judges felt that the deal represents a significant boost for the local market as one of the very few IPOs completed in the region this year.
Corporate team head and partner Andrew Davison said: "After what has been another challenging year it's great to come together to celebrate the deals, large and small, that prove the region's businesses are looking to the future."
"We're proud to have delivered Kitwave's high-profile IPO and have led on the acquisition of Stirling Solutions for Mandata Group, and we are delighted that both deals have been recognised as leading deals of the year."
"As ever, it's a real team effort that gets these deals over the line and, fortunately, at Muckle we have an excellent team that gets results for our clients."
"With both Matthew Walsh and Sarah Forster shortlisted in the Lawyer of the Year category, and Sarah going on to land the award, it's clear we're well-placed to deliver for clients in the year ahead."
Find out more about our award-winning Corporate team or contact team head Andrew Davison to see how we can help you.