Muckle's continued support of homeless charity wins CSR award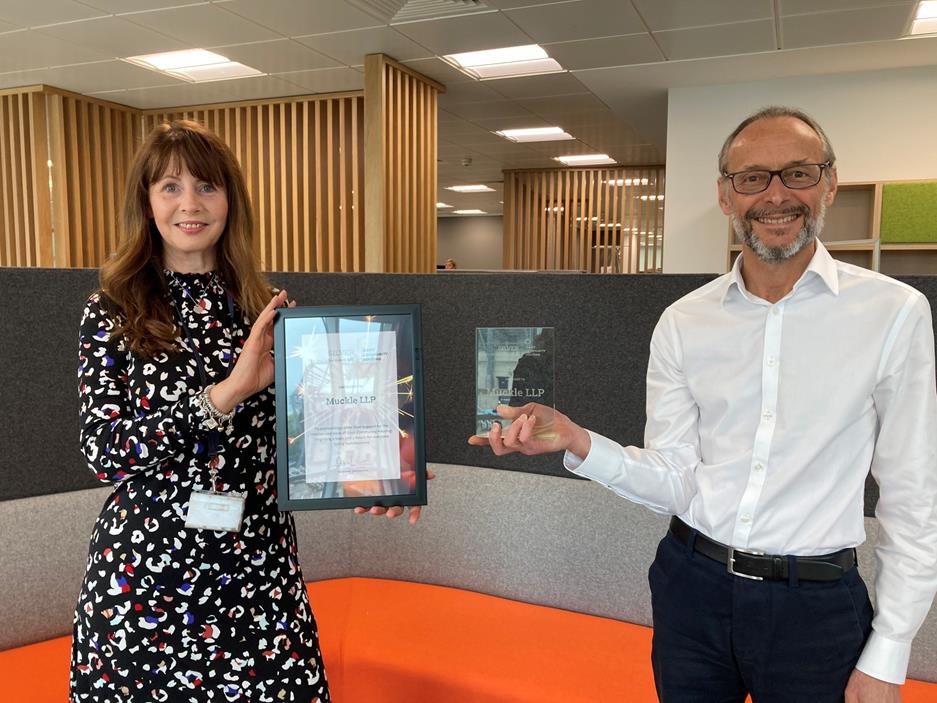 Gateshead based homeless charity, Oasis Community Housing have recognised our continued support over the last 12 months by awarding us their Silver Shared Value Award.
Oasis Community Housing provides a programme of intervention and prevention to address the immediate needs and root causes of homelessness. This award recognises our silver-level support for the mission and work of the charity.
Walking in partnership
With many traditional forms of fundraising ruled out by the pandemic, we looked to new ways of raising money to continue our support of Oasis Community Housing.
The result was a 'Mile in Their Shoes', a fundraising initiative which saw our staff committing to walking a mile a day, for 40 days, to raise money and awareness for all those walking on the streets to find hope. You can still donate and support our efforts here
Shared values
Hazel Ditchburn, Corporate Relationships Manager for Oasis Community Housing said: "The pandemic really has exposed the true scale of the homelessness crisis. We could not have managed to continue delivering critical services without the generous support of valued corporate partners like Muckle and the dedicated individuals who work there.
"We treasure our long-standing relationship with Muckle, which goes beyond a typical corporate partnership and has included volunteer support, events in our name, and funding. Most recently the team has pulled together to raise much-needed funds with the Mile in Their Shoes challenge, which has also served to highlight how people experiencing homelessness walk miles and miles to access support, food, or simply to keep warm.
"The funds raised helped us to provide comprehensive support for people facing homelessness. This includes access to food, medicines, counselling and education and employment, as well as financial support and safe secure, supported accommodation – helping them on their journey towards getting a home of their own.
"The Silver Award is a really sincere thank you to Muckle for their continued support for our work and mission."
Proud partners
Hugh Welch, senior partner and driving force behind our CSR programme, said: "Once again, we're proud to support this wonderful charity and are delighted to receive their Shared Value Award.
"We know this has been a difficult year for many charitable organisations and it's amazing to see how Oasis Community Housing have responded; continuing to deliver critical support to vulnerable people in our region.
"Thousands of people in our local community rely on their services, which became even more vital during the pandemic. It was important that we continued to work in partnership with the charity - helping to raise funds and awareness - and we hope that we can continue to support them in their mission to provide hope to those facing homelessness."
Click here find out more about our community work or contact Hugh Welch on 0191 211 7903 or email [email protected]