Muckle LLP helps Newcastle United Foundation celebrate their 'NUCASTLE signing'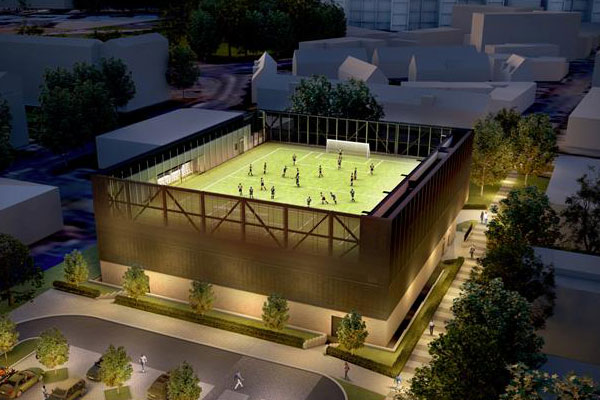 Thanks to multiple funders and with a little help from our team, the steel structure is now in place for NUCASTLE - a new multi-million-pound community hub based in Newcastle. Identified in Newcastle upon Tyne's Local Plan as a priority project, the new facility will be home to Newcastle United Foundation and is set to serve thousands of children, young people, adults and elderly residents from across the North-East of England.
Top ranked signing
Our leading lawyers, Head of Sport John Devine and associate solicitor Richard Nixon were invited to sign one of the steel supports, leaving their mark permanently on the building.
Situated on the site of the old Murray House Recreational Centre, the building will act as a hub where the local community can access sporting facilities as well as coaching and mentoring opportunities. This will include a specialist STEM classroom, digital learning suites and an artificial grass pitch on the roof of the building overlooking St. James' Park.
Relationship with roots
We first became involved in the project in 2016 and has since advised the foundation on several aspects of the development including land acquisition and planning permissions. We also worked closely with the foundation to secure a £2m grant from the Football Foundation.
Sarah Medcalf, Deputy Head of Newcastle United Foundation, said: "We've worked with Muckle for a number of years on the development at NUCASTLE. To get to this point in the project has been a huge undertaking, one which we couldn't have achieved without the continued support and legal expertise of John, Richard and the team.
We chose to work with Muckle for their expertise in sport, but also because of their strong community values. Newcastle United Foundation are proud to support the local community and it's important to us that the partners we work with feel the same."
John Devine said: "We're delighted to have had the opportunity to be part of the team bringing this project to life. Sport is vital in bringing communities together and this project will only build upon the fantastic work Newcastle United Foundation already do in the region."
The site is due to open in 2022 and it's estimated that over 100,000 people will visit the centre each year. NUCASTLE will be fully accessible, meaning that thousands of young people, adults, and elderly residents from across the region will be able to benefit from the centre's facilities.
For more information on how our team can support you or your business please contact John Devine on 0191 211 7905 or email [email protected].