Muckle LLP has Christmas all tied up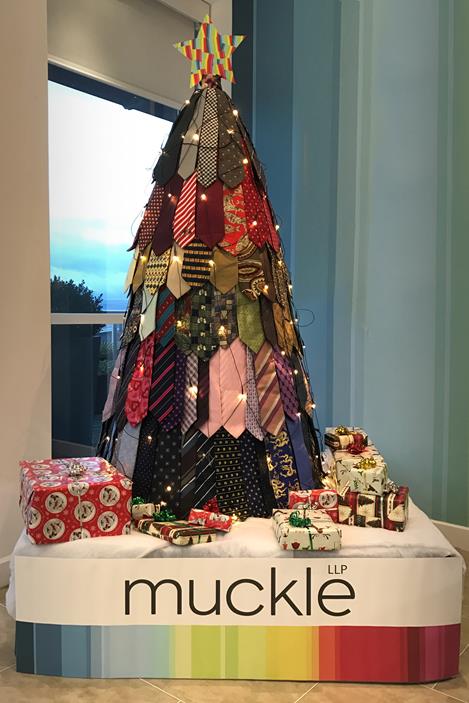 Christmas may be a couple of weeks away but at Muckle we don't hang around.
As part of our continued efforts with all things Green, we have collected, combined and created a spectrum of splendour in the shape of our Muckle Christmas tree.
Tying our colours to the tree
Consisting of 151 neck ties, donated by our people and taking a total of 1.5 hours to build, we think this tree is to-tie-for. Not only does it allow us to upcycle, creating something out of unwanted materials, but also recycle by giving the ties to charity post-Christmas.  Thanks once again our Green Team for all their efforts in the design and build. To see a short time lapse video of the build, click here.
Knotty about our environment
We can always think greener, especially during the festive season. Making a few small changes can help save energy, reduce waste and help reduce landfill.
Since 2007 we've been thinking green.  This year's achievements have included:
Achieved a carbon emissions reduction of 6.88% as against 2014 and 19.97% reduction on 2009 benchmark year

Support remote working

New Bike rack installed

Greater participation in our walking, cycling and running groups

Accredited for the ISO14001:2015 Environmental Standard – one of only a handful of law firms in the North East
 For more information on our environmental achievements check out our latest 'Let's think Green' annual report.
Mannequin Challenge ties us down
Check out our #MannequinChallenge below and decide whether this year's creation is the outright winner or tied neck and neck with last year's tree.
Cast your vote via Twitter @MuckleLLP and include #GoodTiedings
If you would like best practice tips and techniques for your business, please contact our Green Team on 0191 211 7777.