A Muckle message in a bottle this Christmas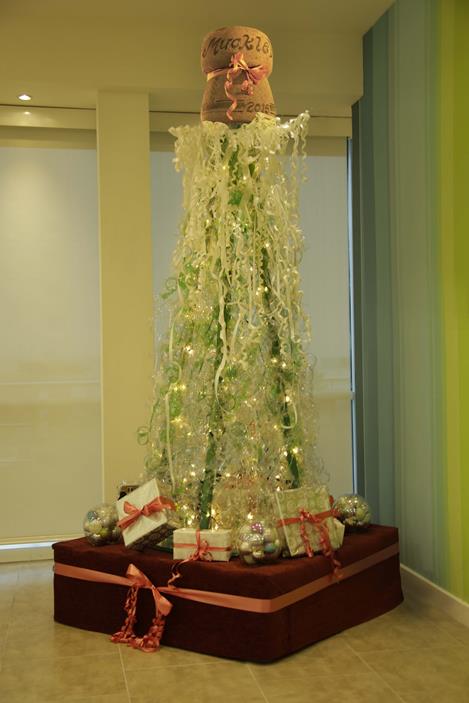 Christmas is usually a time for over indulgence and luxuries. But with everything that's going on in the world, and at home, we decided to consider the environment when creating this year's Christmas tree.
A business with bottle
Made entirely from recycled plastic bottles, and unwanted materials donated by our people and House of Objects, our tree serves as a reminder to reuse, recycle and replace wherever possible.
Greener all the way
During the festive season the environmental impacts of our behaviour are often forgotten. Making a few small changes can help reduce landfill, food waste and save energy.
Since 2007 (when our Green Team was formed), the firm now recycles everything possible, such as waste paper, electrical items, printer toners and mobile phones. However, we certainly haven't stopped there and 2015 has shown that despite our successes we can always think greener!
This year's achievements have included:
Muckle's little helpers
For the second year running we have worked with the creative team from House of Objects, to cut up, warp, bend and twist our plastic bottles – up-cycling along the way.
Taking pride of place in our Business Lounge the tree took 2 hours to build from start to finish. Check out our time-lapse video to see who in our team had the bottle to make such a creation:
And the green activities don't end there. Oh no, ho, ho. For every Christmas card we don't write we'll donate the cash we would have used to Bryson's Animal Refuse (our Charity of the Year), creating a tree bauble with a message to our fellow colleagues.
If you or your team are dreaming of a greener Christmas and would like best practice tips and techniques please call our Green Team on 0191 211 7777.  Alternatively, if you need help with creative recycling, now or into the new year, please contact: Emma Pace from House of Objects on 0191 266 2269.