Muckle advises Newcastle University on new £16m Sports Centre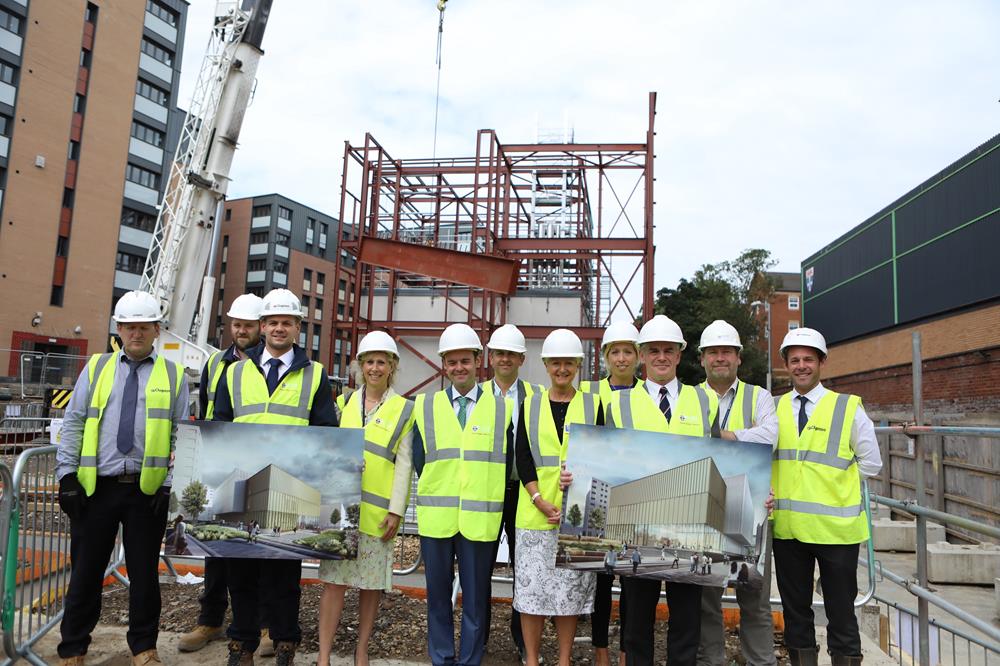 We have advised Newcastle University  on their latest development, a multi-million pound indoor sports centre.
Designed to provide space for performance and recreational sport plus academic space for sports research and teaching, the £16.2m Sports Centre will incorporate facilities for a range of sports and leisure activities. The 5,962 square metre building will include an eight court sports hall, four squash courts, Sport and Exercise Science Labs, a second strength and conditioning room, spin studio and a gym.
First goal achieved
To celebrate a key milestone in the construction, university staff, our lawyers and the team from contractor Clugston Construction gathered to watch the early sections of the steel frame being lowered into position on Wednesday 16 July.
Professor Suzanne Cholerton, Pro-Vice-Chancellor for Education and Project Sponsor, said: "It's very exciting to see the building starting to take shape. This is a key project that will enable us to continue to provide support to our top-performing teams and individual athletes and make sport more accessible to all students and staff.
"The new facilities will support the BSc Sports and Exercise Science programme. Led by Professor Emma Stevenson, this degree programme provides a strong scientific foundation in sport and exercise-related sciences and an understanding of how these relate to human performance and health."
On course to complete by 2019
The scheme on Richardson Road, which is located alongside new student residence Park View Student Village, is progressing to plan and is due for completion by next summer. We advised the university on the construction and engineering contract with Clugston, which was procured through the university's major contracts framework.
Clugston's Contracts Manager, John Manning, said: "We are delighted to have reached this milestone which enables people to appreciate the scale of the new facility. Getting to this point on programme is a testimony to the hard work and collaboration of our team, our suppliers and the University's Estate Team."
The next stage of the project will include the installation of the suspended concrete floor slabs and the attractive external profile cladding and glazing.
State-of-the-art advice
Lucilla Waugh, partner, said: "It is a pleasure to have advised Newcastle University on this state-of-the-art development, which will add to its already impressive estate and further its reputation as one of the most innovative universities in the country."
This milestone follows on from the university's third consecutive top 10 BUCS (British University and Colleges Sport) ranking, which has cemented Newcastle as one of the best universities for sport in the UK.
Newcastle's consistently high performance on the sports field is backed by the investment of almost £32m in new state–of-the-art sports facilities. In addition to the Sports Centre, work is also due to start at Cochrane Park Sports Ground to create three 3G artificial turf pitches alongside an extended and improved pavilion.
For more information or help and advice on your construction and engineering projects, please call Lucilla on 0191 211 7984 or email [email protected]