Muckle hosts TDI celebration of 25 years fighting against sexual offending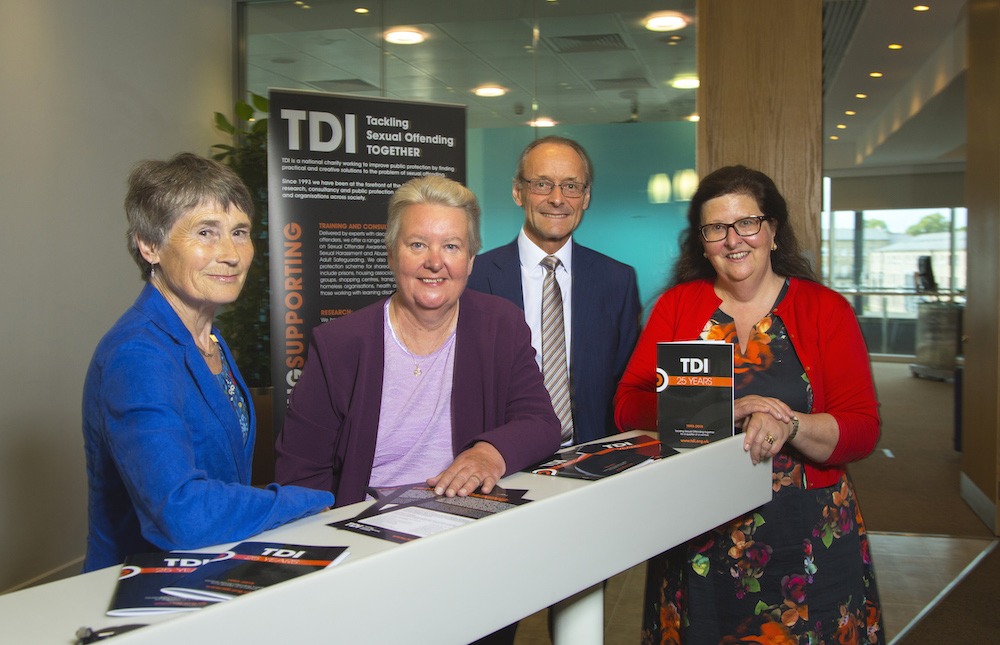 We were delighted to host TDI's 25th Anniversary in business as it continues to fight against sexual offending.
Newcastle based charity TDI (The Derwent Initiative), who provide a wide range of practical solutions to the problem of sexual offending throughout the UK, are celebrating 25 years in business.
Since being founded in 1993, TDI have made substantial contributions to public protection through research, training and partnership working.
They have successfully rolled out a number of high-profile and specifically tailored training packages for organisations across a wide range of sectors, who work with or might come into contact with sex offenders, helping them to identify and manage the risks of concerning sexual behaviour.
preventing sexual harm and empowering commiunities
The celebration event was attended by key members and supporters of TDI's influential work and achievements and was held at our offices at the Time Central building, Newcastle.
Deborah Jenkins, MBE, Chief Executive, TDI, said, "In 2018 as we celebrate our silver anniversary we look with pride at our achievements and with excitement to the future.
"The challenges of sexual offending have not gone away over the last quarter of a century but have changed, and we as an organisation have changed with them.
"We continue to think creatively about the problems of sexual harm prevention and how to empower individuals to reduce risk in their own communities and workplaces'
Hugh Welch
, Senior Partner here at Muckle, said, "TDI is a fantastic organisation who truly make a real difference in this challenging area of work.
"Muckle LLP are proud to support them and host their 25 year celebration event and to play a small part in reducing the incidence of sexual offending in the work place – a topical and hugely important issue."
Superb achievements ​
Sue Winfield OBE, Trustee TDI, said, "As a founding trustee I am so proud of TDI's many achievements in developing a wide range of initiatives to tackle the problems of sexual offending.
"We are also proud to have worked across the UK and Northern Ireland and to have our work recognised by the Home Office, Department of Education, the former Association of Chief Police Officers, police forces, housing associations, probation services and faith groups up and down the country and regulatory bodies overseas.
"Here's to the next 25 years of helping to create safer communities for us all."
Keynote speaker Hazel Kemshall, Professor of Community and Criminal Justice at De Montfort University, Leicester and the UK's leading expert on risk of violence, praised TDI for its track record of community prevention.
We're looking forward to another 25 years!
"TDI are at the forefront of creating environments within which violence cannot thrive and they have led the way on preventing sexual violence for 25 years".
Newcastle based TDI was established in 1993 to think innovatively about the problems of sexual offending. Since then, they have made substantial contributions to public protection through research, training and partnership working.
Over the last 25 years they have played a key role in establishing both Sexual Behaviour Units and multi-agency public partnership agreements and conducted foundational research into the impacts of an ageing prison population on sex offender management in prisons. TDI has also trained tens of thousands of lay people and professionals in diverse fields to better manage the risks of sexual offending, most notably through Leisurewatch, the country's leading programme designed to support lay staff managing public spaces in reducing the risk of sexual harm.
TDI has a small core team based in Newcastle encompassing experience in social work, child protection, criminal justice, health, psychology, housing and research.
Click here to learn more about our corporate responsibility work, or contact [email protected] or call 0191 211 7903