Lift off for lifesaving air ambulance charity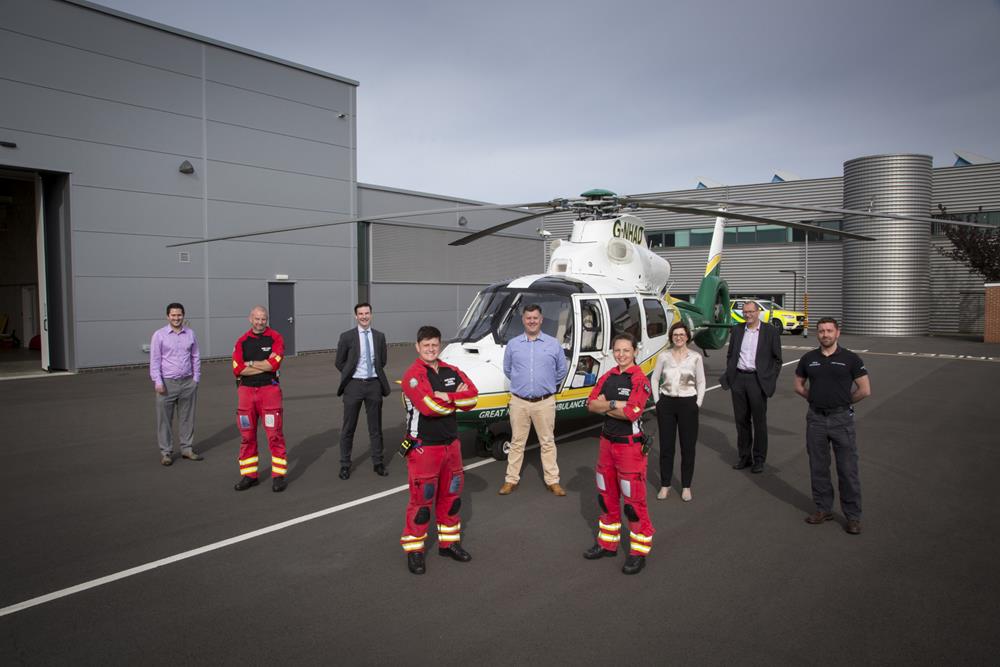 We're delighted to have supported the Great North Air Ambulance Service (GNAAS) with the purchase of two new state-of-the-art helicopters which will enable the charity to reach more people in need.
The GNAAS brings pioneering pre-hospital care to the scene of an accident, rescuing hundreds of severely injured or ill patients every year. In 2020, the charity used its helicopters and rapid response cars to reach over 1,200 incidents across the North of England.
The multi-million-pound Dauphin N3 and N3+ model aircrafts are two of the biggest and fastest air ambulance helicopters in the UK and can fly at speeds of up to 190mph.
The arrival of the new helicopters marks the culmination of a series of investments aimed at strengthening the charity's capabilities, which included the relocation to a new dedicated base at Progress House in Eaglescliffe, next to Durham Tees Valley Airport.
One of the helicopters, the Guardian of the North II, is based at the charity's new headquarters and its arrival marks the culmination of the GNAAS' relocation project.
The relocation in 2019 allowed the charity's globally renowned pre-hospital medical courses to expand as the centre will provide world class education and training – resulting in further lives saved in this region and beyond.
We supported the charity in its relocation and recent aircraft purchases with specialist legal advice from teams across the firm, led by John Devine, Partner and Head of Charity and Louise Duffy, Partner and Head of Banking.
David Stockton, Chief Executive at the Great North Air Ambulance says: "It has been a difficult 18 months for the GNAAS due the Covid pandemic, but the latest investment is crucial in order to provide a continued high standard of service and represents our continued commitment to the region.
"We have ambitious plans to grow and extend our operations. These significant investments mean that we will be able to respond to more incidents, treat more people and save more lives over a wider area.
"We are grateful to Muckle for their expertise in helping us to negotiate these contracts and thank them for their ongoing support over the last 10 years. We also want to thank the public for their ongoing support, despite the pandemic – without your support our work wouldn't be possible."
The legal team behind the relocation of the region's air ambulance have finally been able to visit the charity's new base, which houses the charity's pilots, paramedics and doctors, as well as its charity staff who are tasked with raising the money needed to keep the service operational.
John Devine has been a trustee at the charity for over 20 years. He adds: "We are proud of our longstanding relationship with the GNAAS and committed to the tremendous work that they do. It has been a pleasure to support the charity in refinancing and purchasing the helicopters, that will undoubtedly save lives across the region."
The continued expansion of the service is dependent on public support – Great North Air Ambulance needed to raise more than £5m last year alone. To find out more about the charity and donate, visit www.greatnorthairambulance.co.uk/
To find out how we can help with your charity legal issues, call John Devine on 0191 211 7905 or email [email protected]