Muckle celebrates twenty years of giving across the North East and Cumbria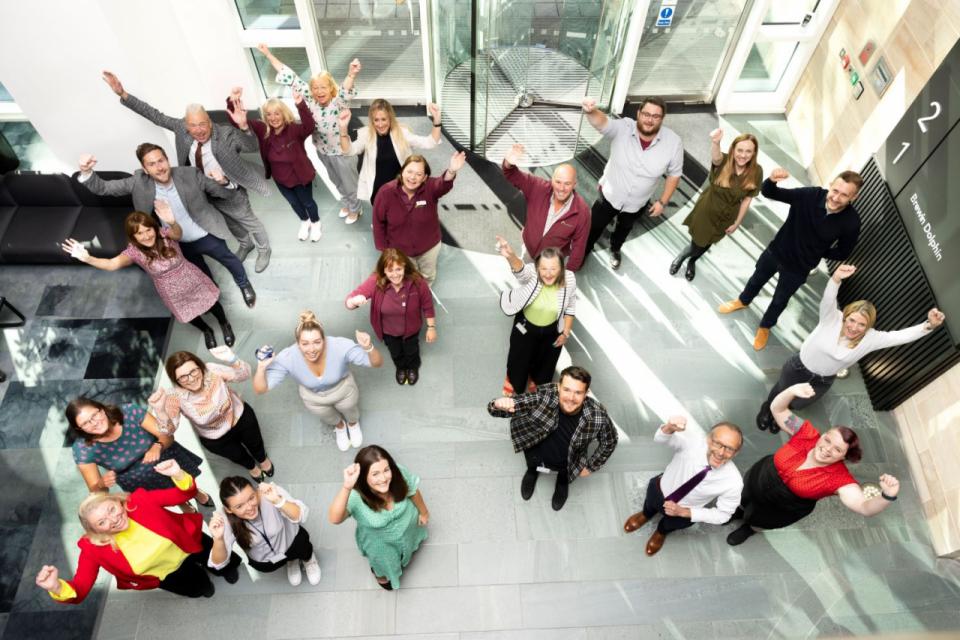 2022 marks 20 years of our Muckle Community Fund, which has helped hundreds of charities, community groups and not-for-profit organisations across Tyne and Wear, Teesside, Northumberland and Cumbria.
Since it was set up in 2002, the Muckle Community Fund at the Community Foundation Tyne & Wear and Northumberland has awarded £603,370 in grants to 662 charities and organisations across the North of England. But grant giving is just one of the ways we give back to the region. As well as donating 1% of our annual profits to the fund, we also give up to £140,000 worth of free legal advice to charities and community organisations every year.
Twenty years of partnerships
To mark the 20-year milestone, local charities Success4All, The Recruitment Junction, Oasis Community Housing and The Country Trust joined us to celebrate and share their stories of how they have benefited from the fund over the years.
Success4All has received a total of around £9,000 for projects including converting a double-decker bus into a multi-functional digital learning hub. Based in Newcastle's west end, it provides educational programmes to help disadvantaged young people and families to gain skills and qualifications.
Founding Director Caroline Afolabi said: "Working with Muckle LLP has been hugely beneficial to Success4All. Keeping in touch gives us important access to their contacts and wider relationships, which helps us network and fundraise even further."
Over the years, Muckle has helped Oasis Community Housing with grants, fundraising and volunteering and has won the charity's Silver, Gold and Platinum Shared Value Awards in the last three years.
Corporate Relationships Manager Hazel Ditchburn said: "Muckle LLP is deeply passionate about making a positive impact on our communities and our relationship goes beyond the typical corporate/charity partnership."
Muckle has offered grant funding, legal support and networking to the Recruitment Junction, a recruitment agency connecting ex-offenders with employers.
Founder-Director Beverley Brooks said: "Multiple Muckle departments helped craft our policies and procedures, employment contracts and staff handbook and a marketing colleague trained us on how to build a social media presence from scratch.
"The firm has continued to cheerlead and support, continued to be available for business advice and championed our ongoing fundraising efforts. It's obvious just how much Muckle LLP is a force for transformation and genuine good in our region."
The Country Trust has been among the local charities benefiting from our volunteering programme. This has included our Agriculture and Estates and Rural Property team acting as a corporate partner for the charity by calling upon their extensive network of clients to assist with the educational experience.
Senior Fundraiser Sue Thompson said: "Making connections and building corporate relationships is so important to charities like ours, and we're so grateful to Muckle volunteers for taking the time to get involved and spread the word."
Lasting relationships
Hugh Welch, Muckle LLP Senior Partner said: "Twenty years is a significant milestone for the fund, and it was important to us that we used this opportunity to celebrate with some of the charities we've been lucky enough to work with over the years.
"Through the Community Fund, we have been able to build lasting relationships that have had an impact on not only the charities but also our firm and the people who work here."
"If you had told me 20 years ago when we started that we would be here today having awarded over half a million in funding, I'm not sure I would have believed you. It's been fantastic to see how far we've come, but we're now looking to the future and how we can make an even bigger impact on the communities we serve. We've recently launched our five-year plan, which sees the Community Fund transition from a Corporate Social Responsibility (CSR) model toward a more sustainable and accountable Environmental, Social and Governance (ESG) framework, and this includes aiming to achieve B-Corp status. It's important that we make it clear to everyone in the business and to our clients that Muckle has chosen to put its values right at the heart of what we do."
Since the Fund's creation in 2002, the Community Foundation has used its local knowledge and expertise to match Muckle's giving with important community causes.
Ross Wilson, Senior Philanthropy Advisor at the Community Foundation who manages the fund for Muckle said: "We're delighted to see Muckle LLP win the award for Heart of the Community. Throughout our long relationship, Muckle has proven to be vocal advocates for the charitable sector and the communities they serve."
Find out more about our Community Fund and volunteering activities here