If you have questions about Muckle, then hopefully the following information will provide you with the answers you're looking for. If not, get in touch and we will of course do whatever we can to help.
When can I apply for a training contract and a vacation placement?
While Muckle isn't like most law firms in some respects we are, and recruit two years in advance for training contracts.  Applicants need to be able to start a training contract in September 2024.
How many trainees do you recruit?
Generally speaking we look to recruit 4 trainees a year.  In this recruitment year we are looking for trainees to start in September 2024.
What are your retention rates?
We deliberately recruit a relatively small number of top-notch trainees as we actually aim to retain them all.  During the past five years, job offers have been made to the majority of our trainees. Last year we retained all of our trainees.
What do you look for in applicants?
Here are some of the qualities we do rate highly:

Strong academics – A/B grades at A Level and a 2.1 degree or above.  Not having these does not mean that your application will be automatically rejected if there are mitigating circumstances.
Strong interpersonal and communication skills – we have a really wonderful team ethos and build close working relationships with our clients and colleagues.  So it's important you'll be able to get on well with both and build relationships.
Enthusiasm, personality, strong work ethic and a great attitude.
Commercial and business focus – you should have an interest in learning about business and want to work in a commercial firm.
A genuine motivation to work at Muckle LLP.

Do you prefer law or non-law graduates?
We actually don't have a preference and have a mix of law and non-law graduates.  A fact that is reflected in our current trainees. 
What is your view on taking a year or time out?
We appreciate there are many different reasons why you may wish to take time out and have no problems whatsoever with people wishing to do so.  Enjoy it!
I haven't any work experience yet in a law firm. Will my application be adversely affected by this?
Not at all.  One of the main purposes of the vacation placement is to see whether our firm is the right place for you.  So we are always interested in hearing about other work experience you may have undertaken and how this has benefitted you and demonstrates you have the qualities we're looking for.
If I have previously applied to Muckle can I apply again?
Yes, of course you can, but this is your decision.  As it happens, a number of trainees we've recruited in the past have applied more than once. But it is important to think about your application – don't just "cut and paste" sections from your previous applications!
Will you accept a 2.2 degree grade or below?
Sorry, not really.  Ideally applicants will have obtained a 2.1 or above, or will be predicted to achieve one.  However, if there are genuine mitigating circumstances (and you have demonstrated very strong academics at A Level) then we will be only too willing to listen.  You might also want to check out question 4 for more guidance on what we look for in applicants.
Will I have a better chance of a training contract at Muckle if I've been on your vacation scheme?
Afraid not (we appreciate there are reasons why applicants cannot attend the vacation scheme in the summer). Our vacation placements have been put in place to give you a further opportunity to get to know the firm better and help you decide whether we're right for you – however, you don't need to have been on a placement to know this!  A number of our trainees haven't been on a work placement, so at our assessment day there's always a combination of those who have been on vacation placement and those that have applied solely for a training contract.
Do you require an applicant to take the SQE rather than the LPC? 
Like most firms, because the LPC is being phased out, we will be requiring our 2024 trainees and those thereafter to complete the SQE Masters.  We would prefer this to be done through ULaw (please see Q12).  Regarding the 2024 trainees any applicants who are already taking the LPC should of course apply as we recognise that this is a transitional period.
How can I complete the SQE?
We have partnered with ULaw to provide a fully funded and tailored SQE Masters programme who will not only support you to complete SQE1 and SQE2 but also provide you with additional learning content to ensure you develop your legal knowledge skills and behaviours to make sure you are practice ready.  An overview of ULaw's programme is below.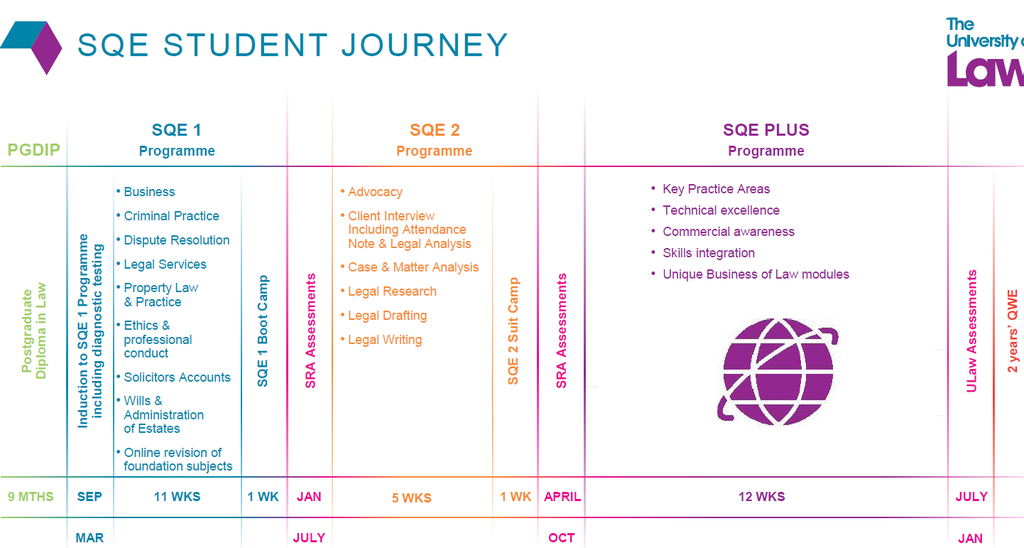 How do I register with ULaw?
If you are successful in getting a training contract with us we will provide your details to ULaw who will work with you to complete the online enrolment process. Whilst our preference is that you work with ULaw, applicants who are keen to join Muckle but have already enrolled with another provider should of course still feel able to apply to Muckle for consideration.
Do you pay fees?
We fund the SQE Masters programme for those applicants who are successful in gaining a training contract with us. At this time we do not pay the PGDL fees (for non-law graduates). However, we can introduce you to ULaw so you can discuss with them the most cost effective approach for you to study the PGDL.
How will my training contract and rotations be structured?
Whilst there is no longer a requirement for trainees to rotate seats in order to satisfy the qualifying work experience (QWE) requirement we think it is important for you to generally spend 6 months in 4 different teams as this will help you decide into which department you may want to qualify.
Do you specify which subject trainees should take on the SQE Masters?
We will be working closely with ULaw to ensure that they help you chose subjects which will be most valuable to you when you start your training contract with Muckle.
If I apply for a vacation placement and I'm not successful, does that mean my training contract application (if I applied at the same time) will be rejected?
Yes. However you can still submit a training-contract-only application later in the year, especially if you feel your application is now stronger. See question 8 for a little more detail on this.
Do you pay travel expenses for interviews?
No. Sorry, we do not reimburse travel expenses or hotel accommodation for interviews.
Do you accept CV applications or speculative applications for paralegal positions?
Sorry, it's no for both. Applications for our vacation placement scheme and/or training contract must be made using our online application form. We don't accept spec applications and any paralegal positions we have will be advertised on our website.
Do you accept international applications from individuals needing a work permit?
We do accept applications from international students subject to them having the relevant work permit/visa at the time of their training contracts starting. For non-EU applicants we are not currently listed as a sponsor.