It might be a bit of a lengthy title, but there are lots to consider in agriculture, estates and rural property. It is much more than business. Often it is family; it is community; it is history too. Landed Estates in particular need trusted advisors who understand all of these relationships and can negotiate the legal landscape for you.
We've built our business doing just that, for over 100 years. We'll get to know you and your business, to help you achieve your goals and proactively identify new opportunities. We have close links with the rural community, especially in the North East and Cumbria, including banks, land agents and other advisors. As a national law firm, we also act for clients across England and Wales.
And because we work closely with all our other specialists, like our Private Client and Real Estate teams, you'll get the very best expert advice and the same personal service, whatever legal issues crop up. It boils down to having a truly agile legal partner to support you, come what may, whether that's in:
selling, buying or letting rural property, including farms, estates, amenity land and woodland;
easements and rights of way, private or public;
agricultural tenancies, including successions;
manorial rights and manorial titles;
minerals ownership, including title, registration and trespass issues;
working mines and minerals;
estate management;
complex historic land titles and first registrations;
sporting rights (shooting and fishing); and
renewable energy and energy storage schemes.
View the Agriculture, Estates and Rural Property Capability Statement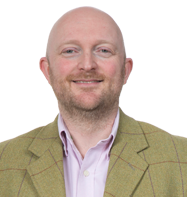 Key Contact
David Towns
Head of the Agriculture, Estates and Private Client Department
Contact David Towns