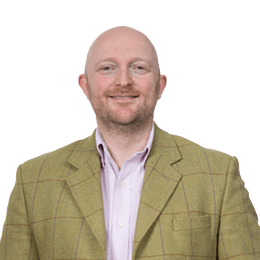 David Towns
Head of Agriculture, Estates & Private Client
About David
David is one of a handful of truly expert landed estates and rural property lawyers operating in England and Wales. Recognised by Chambers & Partners as having "an exceptional ability to problem-solve", he represents numerous rural landowners, families and national and regional charities and other organisations across the country, on matters from general estate management to complex restructuring and refinancing.
David leads our Agriculture, Estates and Private Client team and is nationally renowned for his work on mines and minerals, including extraction and minerals trespass. He assists landed estates, charities and other organisations, such as the Church Commissioners for England, to manage their mineral portfolios. His clients agree that he "is an absolute expert" in this sector (Chambers and Partners, 2022).
Discussing the issue of manorial rights, David appeared on national radio and was asked to give evidence to a Parliamentary Select Committee inquiry. His expert opinion was crucial in shaping the recommendations that followed.
More recently, David has acted for farmers and other landowners in granting options for leases for solar farms and other energy projects, including battery storage facilities, substations and stability services assets. He has a strong reputation for dealing with matters promptly, but robustly, recognising the long-term commitments such matters represent.
With significant experience, pragmatism and good humour in all client matters, David often becomes a trusted adviser, embedded as part of external management teams. He is a member of the Agricultural Law Association and the Northern Farmers and Landowners Group.
David Towns is intelligent and approachable, with a wide breadth of knowledge and good business judgement. David Towns consistently provides intelligent and high-quality advice.