Newcastle makes shortlist as host city for Eurovision 2023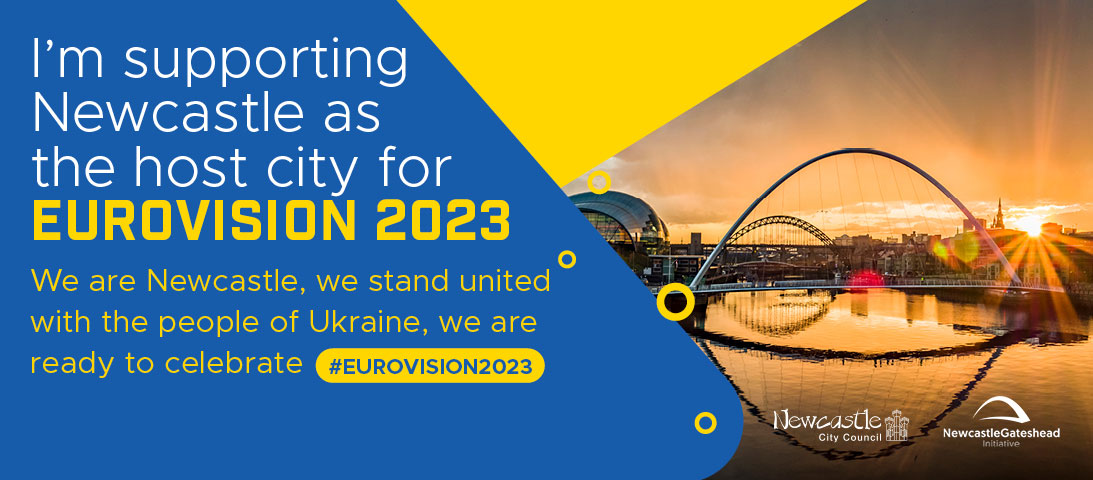 As a Newcastle-based business, we're delighted to lend our support to the City's bid to become the host of the Eurovision Song Contest 2023 on behalf of 2022 winners, Ukraine.
Newcastle is one of seven UK locations in the running to host the international event, alongside Birmingham, Glasgow, Leeds, Liverpool, Manchester and Sheffield.
In July the European Broadcasting Union (EBU) and the BBC confirmed that the annual contest, which draws millions of viewers from across the globe, would take place in the UK on behalf of Ukraine who won with Kalush Orchestra's 'Stefania' in 2022.
Good morning Europe, Newcastle calling…
NewcastleGateshead Initiative (NGI), which is delivering the bid on behalf of Newcastle City Council, hopes that the famous Geordie hospitality, as well as its excellent transport links and 11,000-capacity Utilita Arena, will give the city the edge.
The arena is one of the largest concert and exhibition venues in the North East, with the likes of Little Mix, Katy Perry and Sam Fender passing through its doors.
Working together
Cabinet Member for a Resilient City, Cllr Alex Hay, Newcastle City Council, said: "I am thrilled we've been shortlisted and thank everyone – the businesses, the hotels and partners who have worked so hard with us.
"Now the next stage of this exciting journey begins, bringing Eurovision to Newcastle and putting the city on the international stage."
Ian Thomas, Destination Director at NGI, said: "We are incredibly excited to be shortlisted to host the Eurovision Song Contest next year.
"As a region with collaborative and passionate people at its heart, we are already working with partners across all sectors to ensure we are able to deliver an exceptional event that celebrates Ukraine and its culture to its absolute best.
"Newcastle is a gateway to the rest of the UK, with an international airport, seaport, national rail links and excellent local transport. Along with our vast range of hotels, accommodation and hospitality offers, not to mention the famous Geordie welcome, the city is the perfect host destination.
"We're ready to make Eurovision 2023 part of our collective, cultural history and create even stronger ties with our friends in Ukraine."
Amazing news!
Cabinet member for a Vibrant City, Cllr Lesley Storey, Newcastle City Council said: "This is amazing news. I never doubted it for one minute.
"Newcastle is a warm, welcoming city and only the Geordies could get behind a bid like this and put so much into it on behalf of the people of Ukraine.
"We are one step away from hosting one of the biggest events in the world right here in Newcastle. How exciting is that?"
Eurovision will be held in May 2023, however exact dates are yet to be confirmed.
You can find out more about the bid here or keep up-to-date on NGI's twitter feed