Muckle LLP announces senior promotions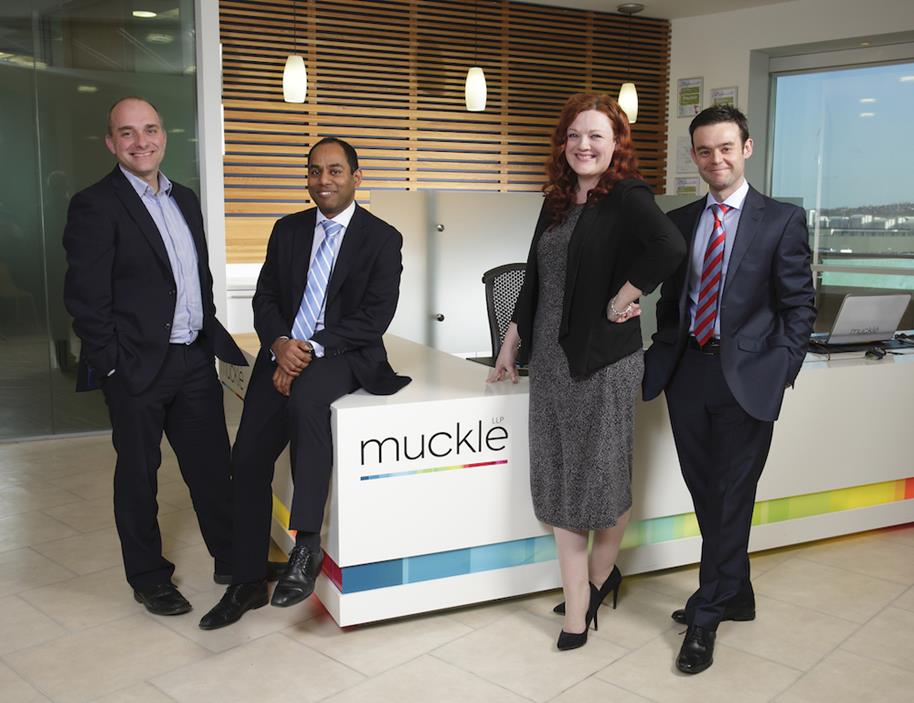 We are very pleased to announce the promotion of three lawyers within our Banking, Commercial and Construction teams.
Kevin Maloney has been promoted to partner in the banking and restructuring team. In addition, two lawyers have been promoted to associate solicitor: Adam Aston in the Construction and Engineering team and Nicola Barnett in the Commercial team.
Kevin Maloney joined the firm's corporate team initially when he qualified as a solicitor at Muckle in 2000 but is known for his work in the banking team where he has been for eight years.
As well as providing advice for a range of financial institutions, Kevin advises borrower clients who need banking, finance and fundraising advice. He also leads our Graduate Recruitment Team.
During his time at the firm he has been actively involved in deals, such as the flotation of Quantum Pharma Plc and the joint venture company between BEL Valves and Newcastle University, as part of a £10m subsea engineering facility for the Newcastle quayside.
He commented: "I am delighted to have been promoted. Muckle is a great place to work and I have enjoyed developing my career here. I've been fortunate to work on a range of high quality, complex transactions which reflect both the nature of our clients and the capability of our team."
Louise Duffy, who leads our banking and restructuring team, said: "We are proud to congratulate Kevin on his achievement in becoming a partner within the largest banking team in the region. His appointment recognises the talent and work ethic which makes him a central member of our team."
"He has led and managed complex transactions and the promotion is a well-deserved recognition of that effort and excellence over a long period.
Newly promoted associate solicitor, Nicola Barnett, joined Muckle in 2010 and specialises in advising on IT, data protection and freedom of information. She has advised clients on a variety of sector issues, as well as project managing complex company-wide data protection compliance projects, Information Commissioner/Tribunal appeals and subject access/disclosure issues.
Nicola said: "I am delighted to be promoted and look forward to the new challenge in further developing our IT and information law offering. Since I joined the firm, I have enjoyed building on my existing practical experience as an information law adviser by achieving my data practitioner qualification and also raising the firm's profile by speaking at the National Information Security Conference last year."
Adam has also been promoted to associate solicitor. He joined Muckle eight years ago and specialises in detailed contractual analysis and drafting, commercial negotiation and contractual procurement in the construction sector.
Adam said: "Since qualifying into the construction team, I have enjoyed working on a diverse range of construction and engineering projects. In recent times, I have been lucky enough to have worked on a number of high-profile engineering, energy and infrastructure projects. I am very excited by my promotion to Associate Solicitor and am very much looking forward to making a more prominent contribution to the running and continued success of our team."
Speaking of the promotions, Muckle LLP's managing partner, Jason Wainwright, said: "These promotions are well deserved and reflect hard work, expertise and enthusiasm. Kevin, Nicola and Adam clearly really enjoy what they do and it's great to see people develop professionally and personally at Muckle LLP, whether joining us as trainees or later in their careers. We are committed to helping people achieve their potential and our promotions are a real reflection of the progress that the firm continues to make and the opportunities which lie ahead."
For more information on careers at Muckle LLP please visit our Careers page or contact Jason Wainwright on 0191 211 7951.