Jersey Electricity signs contract for third £40m French power cable link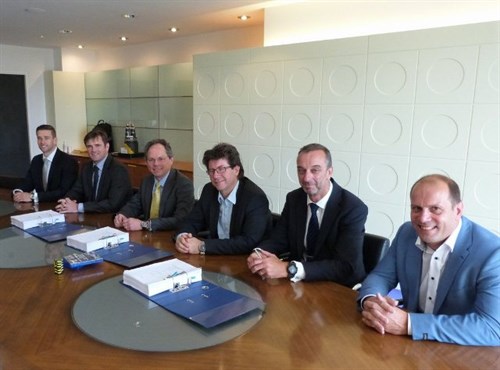 We recently acted for Jersey Electricity Plc in agreeing the terms of a £20m contract with a consortium of specialist international sub-sea cable contractors for the design, manufacture and installation of a 100MW sub-sea power cable spanning from Jersey to France.  The move comes less than a year after the successful completion of the £70m Normandie 3 cable project, which the Muckle team also advised upon.
The project, known as Normandie 1 (N1), saw Muckle's partner, Rob Langley, and Associate, Adam Aston, negotiate detailed contract terms with the contractors' representatives based in both Holland and Italy.
The N1 project is of great strategic importance to Jersey Electricity Plc and is a direct replacement for Jersey's first 55MW interconnector cable which was installed back in 1984 and is approaching the end of its design life.  Like N3, this latest project is another Channel Islands Electricity Grid (CIEG) joint venture with Guernsey Electricity.  The two Channel Islands utilities will share the total £40m project cost and the import capacity of the new cable which is expected in service in 2017.
World leading cable industry specialists Prysmian, who manufactured and installed N3 and its adjoining land cables, will manufacture the new cable at their flagship plant in Naples, while Dutch specialists VBMS, with whom the CIEG developed an innovative Power Cable Maintenance Agreement in 2012, will be responsible for its installation.
N1 will follow the same 27km route as EDF1 from Archirondel to St Remy des Landes.  Work surveying the route began on Monday with the deployment of MMT's 21-metre Askholmen near-shore survey vessel.  Unlike the N3 subsea cable, which took 11 weeks to install over a more southerly route, the installation of N1 is likely to take around three weeks as it will be laid on the seabed, like its predecessor, rather than ploughed in beneath it.  No road works will be necessary in Jersey or in France this time as the new cable will connect to existing 90kV infrastructure on both sides of the Channel.
EDF1 has been prepared in readiness for removal from the seabed in accordance with planning permissions before N1 is laid and the small substation at St Remy des Landes, known as 'Poste de Surville', which served the 1984 cable, will be dismantled and the land returned to nature once the new circuit has been commissioned.
Prysmian Business Development Director, David Worthington and Project Manager James Garner, along with Commercial Director Jack Wattel and Managing Director Arno Van Poppel of VBMS, attended the contract signing ceremony at the Powerhouse with Jersey Electricity CEO Chris Ambler, Finance Director Martin Magee, Energy Division Director David Padfield, GEL Chairman Ian Beattie, CEO Alan Bates, Finance Director Julian Turner, Asset Management Director Sally-Ann David and the JE N1 project team headed by Project Executive and Chief Engineer John Duquemin and Project Manager Jeremy Willis.
Afterwards  Chris Ambler said: 'Despite installing N3 only last year, we always intended to replace EDF1 and working with Guernsey Electricity has enabled us to accelerate this. N1 will further enhance supply security and will enable us to import Jersey's full electricity requirement even during the winter peaks, as well as help balance the grid in a more efficient way. Despite energy efficiency, we forecast demand for electricity to rise in the future as new applications take hold.  We are committed to investing in a sustainable future for Jersey to ensure we continue to meet that demand with affordable, secure and low carbon imported power.'
If you have any major engineering project requirements from our legal team, please contact Rob Langley on 0191 211 7975.