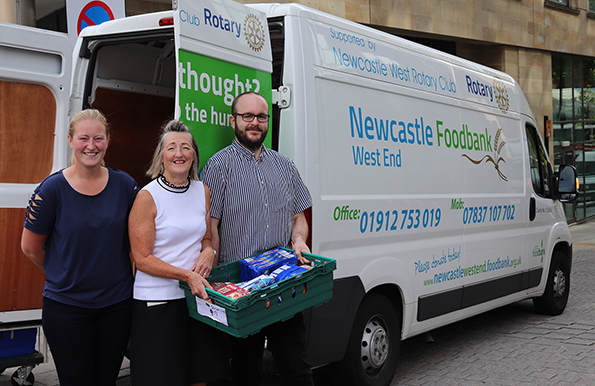 Did you know, UK food bank use reached its highest on record in 2018? The Trussel Trust, a charity which runs over 400 food banks across the UK, handed out over 1.3 million three day emergency food supplies to people in crisis in just 12 months.
It is devastating that food banks are needed at all in our country, and recently Newcastle's West End-based food bank was so busy it ran out of food. Spotting an article in the newspaper, events manager Ruth Craig and solicitor Henry Mullen rallied round and got us all raiding our cupboards at home for non-perishable food to donate.
£300 raised in just a couple of days
Paralegal Jaymes Anderson Glew took the initiative to another level, offering to purchase food with cash donations from our office. His supermarket sweep snowballed and Jaymes spent all night stacking hundreds of tins, jars and packets bought after raising around £300 in just a couple of days.
Stephen Lightley, West End Food Bank Treasurer, said: "Many thanks for Muckle LLP's very generous donations. It is one of the largest corporate collections we have had and is a tremendous effort on the part of all of your colleagues. It comes at a time when our food stocks are running very low owing to high levels of demand so is particularly welcome."
Click here to view our video or, to learn more about our commitment to being a responsible business, click here.