Muckle LLP advise on Squires investment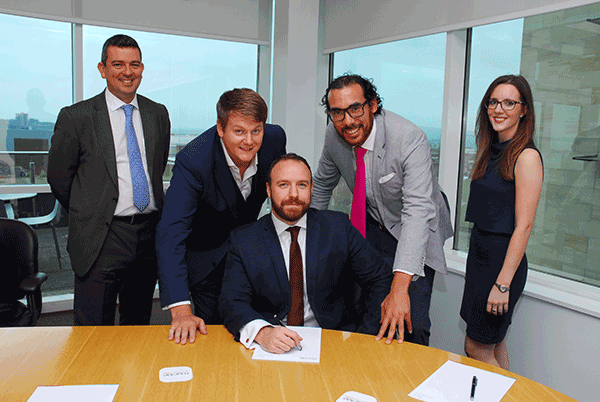 Fast-growing Newcastle based social media and digital marketing specialists Curtis Gabriel, have announced that former Director and Benfield Motor Group's Brand Manager, Matthew Squires has made a significant investment in its business.
The funds raised will allow Curtis Gabriel to further develop its product offering and move into new sectors, following a number of recent high-profile contracts wins. The investment by Squires is seen as a significant step in the company's next stage of growth and expansion.
Plans in the pipeline
Established 3 years ago by Roger Gabriel and Simon Curtis, the digital marketing agency already employ 20 people in their Gosforth based offices, and have further plans for business growth in the pipeline.
Roger Gabriel, Managing Director, Curtis Gabriel, said, "We are delighted to announce this new and significant investment in our business. Matthew is an experienced and well respected Marketer and until recently helped lead and influence the marketing and brand direction of Benfield Motor Group."
Sales Director and founding partner Simon Curtis, added "We are also delighted to announce that Matthew will join our board and has accepted a new position within the company as Operations Director. These are exciting times for Curtis Gabriel and it is a pleasure to welcome Matthew on board for the next stage of our journey."
Tip top advice
We advised Mathew on his shareholding agreement and Commercial Law specialists Watson Burton represented Curtis Gabriel.
Speaking about his investment Mathew Squires, said, "Curtis Gabriel is an exciting business with an already impressive client base specialising in social media management services and supporting digital marketing services such as SEO, PPC and email marketing as well as creative services such as web design, graphic design and video production.
"I was looking to invest in a young dynamic business in which I could also apply my marketing skills and experience too, and this fits the bill perfectly.
"I'm certainly looking forward to joining the dynamic and passionate team, who I have known and respected for some time, and supporting the delivery and next stage of their business development."
Curtis Gabriels client base include international brands Marriott, Hilton and IHG and they also represent a number of well respected local and regional brands, managing their comprehensive social media and digital marketing activity.
Stephanie Brown, Solicitor, Muckle LLP, said, "We are delighted to have advised Matthew on his latest business venture and investment. This is a great opportunity and match for both parties and one we are sure will continue to flourish well into the future."