Muckle LLP Lead the Way in Local Carbon Savings Scheme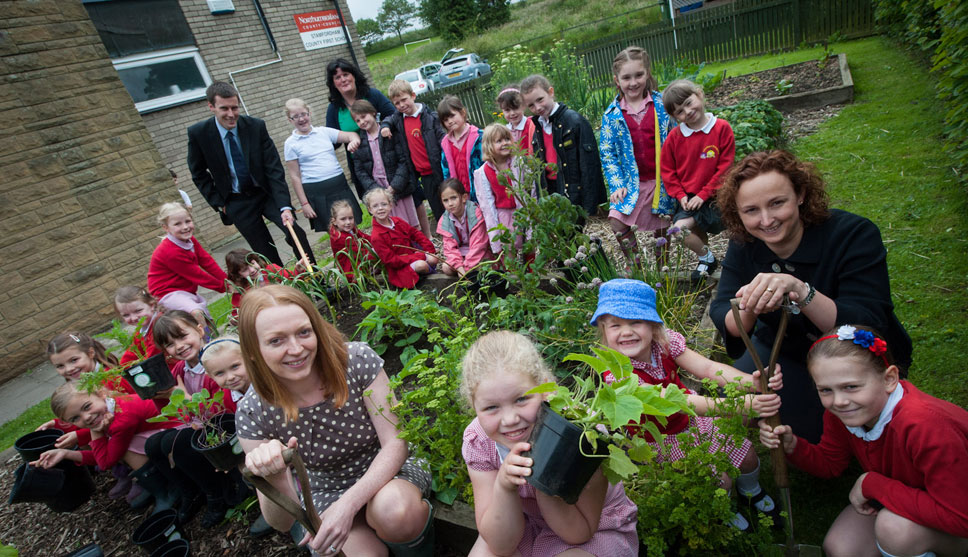 Local law firm Muckle LLP is leading the way in a new innovative scheme developed in collaboration with the Community Foundation to donate the cash equivalent of its carbon footprint to approved local environmental projects.
The firm is measuring its carbon footprint each year using an approved system and has reduced it as far as possible. The carbon emissions it has not been able to eliminate equated to £3,100. Rather than paying this into an overseas carbon offset scheme, Muckle wanted to find a way to use this money to support local environmental projects in the Tyne & Wear and Northumberland area. Donating the money to the Local Environmental Action Fund (LEAF) at the Community Foundation, which has the expertise in environmental grant making, has enabled Muckle to achieve this aim.
Staff from the firm chose from a list of approved projects identified by LEAF and the first organisation to benefit from a grant of £3,100 is Stamfordham First School. The donation has gone towards creating a kiddie and community garden on a previously underused site at the edge of the school grounds. The production of food locally will reduce carbon consumption with the added benefit of educating the children and wider community about how you can grow your own.
Andrew Davison, Partner at Muckle LLP and instrumental in helping to devise the scheme said:
"We are delighted that Muckle LLP is the very first company in the region to donate to such a scheme. We have a very strong environmental policy in place here and firmly believe that it is our responsibility to put something back in to the area we are taking our resources from. I am looking forward to hearing how the community garden at Stamfordham First School is developing and we are thrilled that we were able to help."
Claire McKinney is the Head teacher at Stamfordham First School. She said:
"This community garden has been planned for some years now and following some consultation exercises we have already managed to get some work started on the site. This grant from the LEAF Fund and Muckle will enable us to build more raised beds and plant more plants and shrubbery. We can't thank everyone enough for helping us make this garden come to life."
The LEAF Fund at the Community Foundation has a wealth of experience sourcing local environmental projects and, following the success of the pilot grant with Muckle, is now opening the service up to a wider audience. Any companies interested in donating the cash equivalent of their carbon footprint should, in the first instance, contact Katie Wellstead at the Community Foundation on 0191 222 0945 for more information.
Alternatively, if you require further help or advice on Energy please contact Andrew Davison on 0191 211 7950.