Helping to Raise over £8000 for Heel & Toe Children's Charity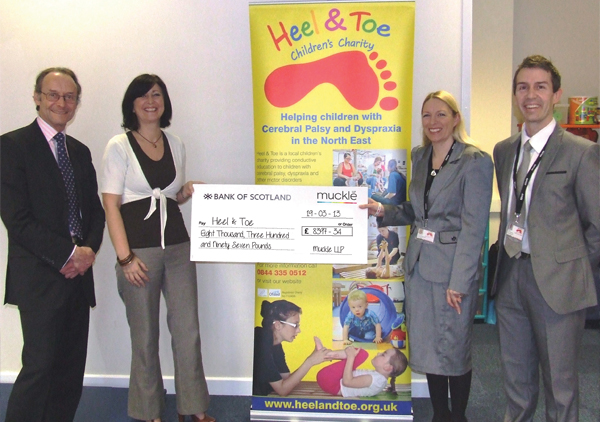 Yesterday we handed over a cheque for £8,397.54 to local children's charity, Heel & Toe, after appointing them as our chosen charity for 2012-2013.
Senior Partner and Head of the Community Team at Muckle LLP, Hugh Welch, visited the Centre with Karen Young from the Client Services Team and met some of the children who will benefit from their fundraising efforts over the last year.
Why support Heel & Toe?
Heel & Toe offers FREE conductive education therapy to children with cerebral palsy and other physical disabilities across the North East.  It is the only charity in the region to provide this unique service free of charge and relies on support from local businesses, groups, schools and individuals to continue providing this life-line, currently to around 90 children every week.  Conductive education is a system of learning which originated in Budapest and helps improve the children's mobility and movement, which in turn increases their independence and confidence.
Hugh Welch commented:
"Through our Community Team we appoint a chosen charity every year and like to choose a local charity, where we can see for ourselves the difference our money is making.  As part of our commitment to supporting local charities, Muckle LLP also match-fund all money raised by our people, thus doubling the donations and raising even more for charities on our doorstep, who so desperately need it.
"Our people really enjoyed supporting Heel & Toe this year and were keen to take part in the charity's own fundraising events such as the Zipslide, Skydive and Firewalk, as well as organising their own events which included a Sponsored Ramble, Recipe Book Sale and Harvest Festival.  One of our staff members went so far as dying his beard bright pink to raise £340 for the charity!
It really has been a fantastic team effort and we were delighted to visit the Centre to present Heel & Toe with a cheque for £8,397.34."
Making a difference
Doug Long, Heel & Toe's Chief Executive Officer added:
"We really appreciate everything Muckle LLP has done to raise funds for Heel & Toe over the last 12 months and have been over-whelmed by their enthusiasm and commitment to raising as much money as possible for Heel & Toe.
"As a small, local charity which receives no government funding we rely on companies such as Muckle LLP to help us raise the £360,000 needed each year to continue giving these wonderful children a better quality of life."
For further information on Heel & Toe, either for parents wishing to access the service or those wishing to help fundraise, please contact 0191 386 8606, email: [email protected] or visit: www.heelandtoe.org.uk