Grassroots football benefits from professional clubs player transfers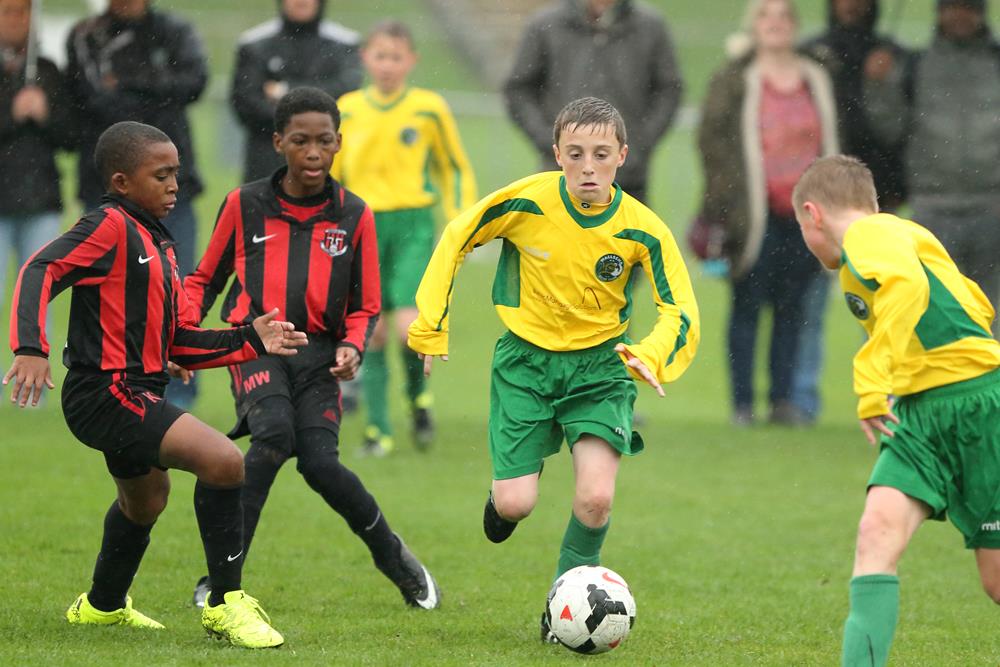 Two of the most famous amateur boys club teams in the UK have been able to benefit from the transfer of their former players internationally.
Securing funds from professional transfers
Partner and head of sport at Muckle LLP, John Devine, has been working with both Wallsend Boys' Club in North Tyneside and Senrab FC in London over the past 12 months to secure funds they were entitled to from the professional club transfers of their respective former players, Fraser Forster (Wallsend) and Jermain Defoe (Senrab).
With significant claims now resolved for each of the clubs in increasingly testing times for grassroots football, they were invited to host a friendly match in Newcastle to raise awareness among amateur clubs of FIFA's 'solidarity mechanism'.
What is the solidarity contribution?
Under FIFA's regulations, when a player makes an international transfer, 5% of every transfer fee between clubs in different national associations is set aside by the buying club to be distributed among each of the clubs with which the player was registered between the seasons of their 12th and 23rd birthdays. The amount due is proportionate to the actual length of time spent with each club during that period, which is recorded on a 'player passport'. The solidarity contribution may then be apportioned to each club on a pro rata basis. In relation to international transfer values of several million pounds, the solidarity entitlement can run into thousands for former clubs. Unfortunately, it does not apply to domestic transfers in England.
John said: "It's been a pleasure to help both Wallsend Boys' Club and Senrab FC over the past year or so. Both clubs are integral to the communities they serve and play a vital part in the lives of the young people they engage with. Like many grassroots clubs, they each still depend on donations and other financial support just to keep going each year, so hopefully the solidarity contributions will help to make a real difference this season.
"The FIFA regulation is not that widely known among grassroots clubs so we proposed a match to raise awareness of the solidarity issue, as well as to give the boys a great experience in playing under the floodlights at the home of Northumberland FA, who have very kindly offered to host the game".
Solidarity Match between Wallsend Boys' Club and Senrab Football Club
The match will take place on Wednesday 28th October, with a 6.30pm kick off, in the week following Wallsend Boys' Club's 50th anniversary dinner and a week before the Sunderland vs Southampton game where the current respective clubs of the two players involved in each solidarity claim, Fraser Forster and Jermain Defoe, will play each other. Clive Oliver, Chief Executive of Northumberland FA and a former Football League referee, will officiate.
Wallsend Boys Club has produced more than 75 professional players over the years, including Alan Shearer, Peter Beardsley, Michael Carrick and Steve Bruce. Senrab has a similar pedigree, with John Terry, Bobby Zamora, Ledley King, Ashley Cole, Lee Bowyer and Paul Konchesky among their former players.
Steve Dale, chairman at Wallsend Boys' Club, said: "As one of the clubs which played a part in Fraser's development, it was pleasing to hear that there was a chance we could benefit from Fraser's transfers several years after he had left the Boys Club.
"John Devine talked us through how the regulations apply to international transfers and liaised with Newcastle United, Celtic and Southampton on our behalf. Our claims were successful and we can now use those much needed funds to help more children take part in community football."
Senrab FC was formed in Stepney, East London in 1961. They have 26 teams ranging from five years old to 16. They have produced more than 150 players who have gone on to play professionally.
Tony Carroll, club secretary at Senrab, said: "We pride ourselves on developing youngsters but it's tough running a club in London, especially with the expense of pitches. We're training and playing at different venues, as most of Tower Hamlets facilities are run by private companies on the open market these days and are block-booked by companies from Canary Wharf paying more than we can afford. A lot of parents find it hard to find the money for subs.
Successful claims
"I first learned about how the solidarity mechanism worked when I got a call from John. Jermain was with us from the age of seven until he was 14. I'm delighted that Muckle has not only been able to help with our claims in relation to Jermain's international transfers to Toronto then Sunderland, but has also helped to organise this trip for the boys. It will be a great experience for the youngsters taking part as Senrab is in one of the most deprived boroughs of England; so for most of these children, it will be the first time they've even left London. Newcastle United FC have very kindly offered a stadium tour of St James' Park while the boys are in town, so it will genuinely be a trip they will never forget."
Mick Baikie, National Clubs Services Manager from The Football Association, added: "This is fantastic news for the clubs involved. The Football Association fund a free legal helpline that is operated by Muckle LLP for all National League System and FA Charter Standard Clubs and Leagues. We are delighted that Muckle LLP continues to assist clubs of all sizes across the country to achieve their goals."
For any sport related help or advice, please contact John Devine on 0191 211 7905.