A host of young talent joins Muckle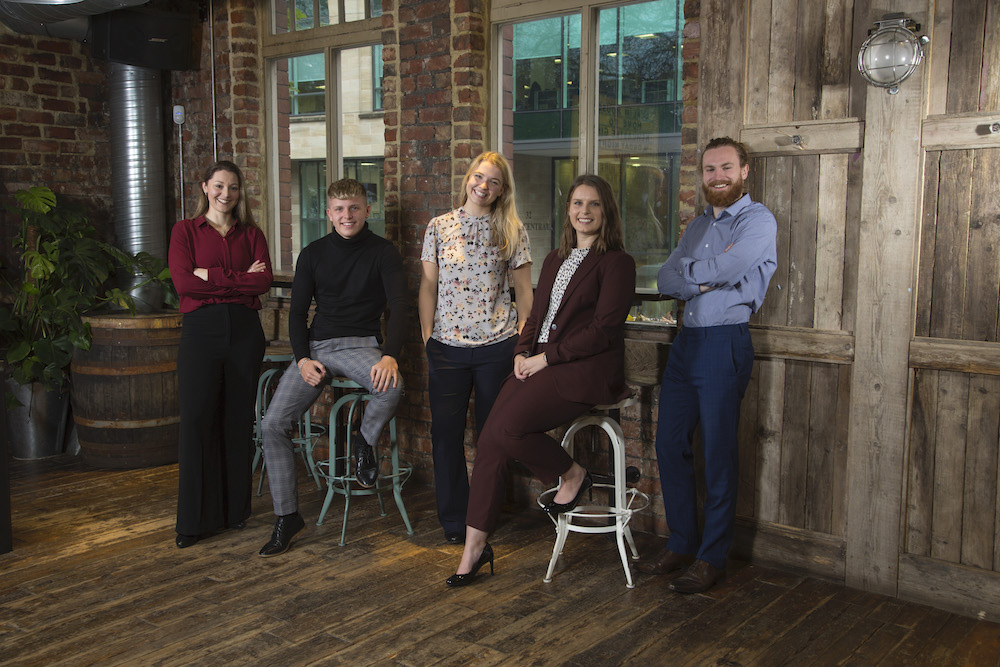 We're delighted to welcome four new trainee solicitors and an apprentice solicitor to our growing team.
Ben Forbes has taken up his first seat in banking & finance, Katie Allen begins her trainee-ship in the corporate team, while Lydia Stewart has joined the real estate team and Tania Brodie-Clarke has started in the dispute resolution team.
A new apprentice solicitor, Jake Thompson, has also joined our real estate team, which means we now have a total of 5 apprentice solicitors.
Opportunities to grow
The announcement follows a number of successes for us, which recently reported double-digit growth with profit and turnover up on the previous financial year. We have also retained our Investors in People (IIP) Gold accreditation, after 92% of our employees agreed it is a great place to work.
Jason Wainwright, managing partner, said: "We're delighted to welcome these bright, talented and ambitious individuals to Muckle – where they can expect all the opportunities and support they need to develop their careers to the very highest level."
"We strive to provide our clients with excellent service and give our people a fantastic place to work and I hope our new apprentice and trainees will enjoy many happy and successful years here."
'friendly, forward thinking and down to earth'
Tania Brodie-Clarke, added: "Muckle LLP really stood out as being friendly, forward thinking and down to earth with a wealth of expertise.
"My Master's dissertation focused on the regulation of machine learning and I have a particular interest in the commercial uses of AI, so I'm delighted to be working with the dispute resolution team, which uses some of these innovative techniques."
'Muckle stood out the most'
Jake Thompson, apprentice solicitor, said: "My original interest in Muckle began when I met some of its lawyers at the open evening at Northumbria University.
"When they explained the core values and the diverse range of people who work here, I knew that this was the firm I wanted to pursue. The other firms were good, but Muckle definitely stood out to me the most."
To learn more, contact Jason Wainwright on 0191 211 7951 or email [email protected]