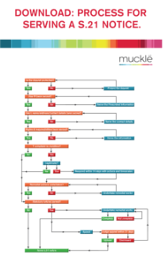 It is all going on, or it will be in October of this year.  Fairly significant restrictions to an inexperienced landlord's ability to recover possession of a property let on an Assured Shorthold Tenancy comes into force from 1 October 2015. I say inexperienced because anyone new to the residential lettings market really needs to either thoroughly research the legislative requirements placed upon landlords or instruct a clued up agent to handle matters for them.
The old hands at property letting will be comfortable with the TDS (Tenancy Deposit Scheme) by now and its requirements to both protect a tenant's deposit in a recognised scheme and formally notify their tenant of:
the details of the scheme, the deposit amount, prescribed information, the property to which it relates, contact details for the landlord (or agent); and
the consequences of failing to protect the deposit and/or provide the prescribed information – a statutory bar to serving a s.21 Housing Act 1988 notice to terminate the tenancy.
The Deregulation Act 2015, gave a period of grace from 26 March to 23 June 2015 in which to tidy up in certain circumstances any deposits not previously protected or prescribed information not served. From then on, defaulters of these basic requirements will face not only difficulties and/or delays in regaining possession in the face of the tenant default but financial penalties: an unpleasant initiation for the unwary.
What other traps will be lurking in October for both the uninitiated and the initiated then?
a s.21 notice can only be served after month four of the tenancy from 1 October 2015; a departure from the current ability to serve a s.21 notice at the commencement of the term;
if you, as landlord, are the recipient of a statutory notice as to condition of the premises, the health and safety of occupiers, and/or the property's energy performance, and have not adhered to it, you will not be able to serve a s.21 notice, until six months after the date the notice was received;
if you, as landlord, have had a complaint from a tenant as to the condition of the property or the tenant has made reasonable efforts to notify you and you:

failed to respond substantively (setting out action to be taken with timescales) to the same within 14 days of receipt; or
responded with a s.21 notice

you will not be able to serve a valid s21 notice;

for all tenancies from 1 October 2015 you, as landlord, will be required to provide certain information about the rights and responsibilities of a landlord and tenant under AST (Secretary of State has yet to provide guidance as to the relevant details);
should you, as landlord, fail to provide this information, then there is a bar on serving a s.21 notice until you have done so;
if you are going to rely on an s.21 notice for a fixed term tenancy or one which subsequently becomes periodic by holding over (statutory periodic), you will have a maximum of 6 months from the date of the notice to commence proceedings for possession; and
if you are going to rely on an s.21 notice for a periodic tenancy (as opposed to a statutory periodic) you will have a maximum of four months from the date of expiration of the notice to commence proceedings. This may mean therefore that an s.21 notice attached to a periodic tenancy has a slightly longer shelf life than the 6 months set out above for a fixed term or statutory periodic tenancy.
There are some pockets of sunshine for landlords in the new provisions though:
the requirement that a s.21 notice in certain circumstances has to end on the last day of a period of the tenancy is abolished (existing case law from the last 12 months in statute). One consequence of just needing to give a straightforward two months' notice is that where a tenant pays its rent in advance and the tenancy terminates midway through a period of the tenancy, the tenant will be entitled to a return of its rent for the days between the expiration date of s.21 notice and the end of the period of the tenancy. e.g.

Rent paid in advance on 1st of month
s.21 notice served on 22nd of month
Tenant entitled to return of rent for days 23 – to end of month (provided of course vacant possession is given);

if the property is in such a condition prompting the service of a notice on the landlord, and this is due to the tenant's use of the premises, then there is no bar to your service of a s.21 notice; and
where, at the time of the service of the s.21 notice, the property is genuinely on the market for sale, the provisions concerning the tenant's complaints of condition or property can be disregarded.
Where a professional landlord manages its portfolio to maximise the yield and return on investment by regular maintenance of its assets in accordance with an asset management plan and diarises the time limits for action carefully, none of the new provisions are likely to cause problems. It is those landlords who are unaware of their obligations, the time limits and the investment required in their assets where issues are likely to arise.
View or download our process chart for serving a s.21 Notice.
For more information or if you would like to chat things through please do not hesitate to contact Charlotte McMurchie on 0191 211 7979 or [email protected].