Welcome to our new home from home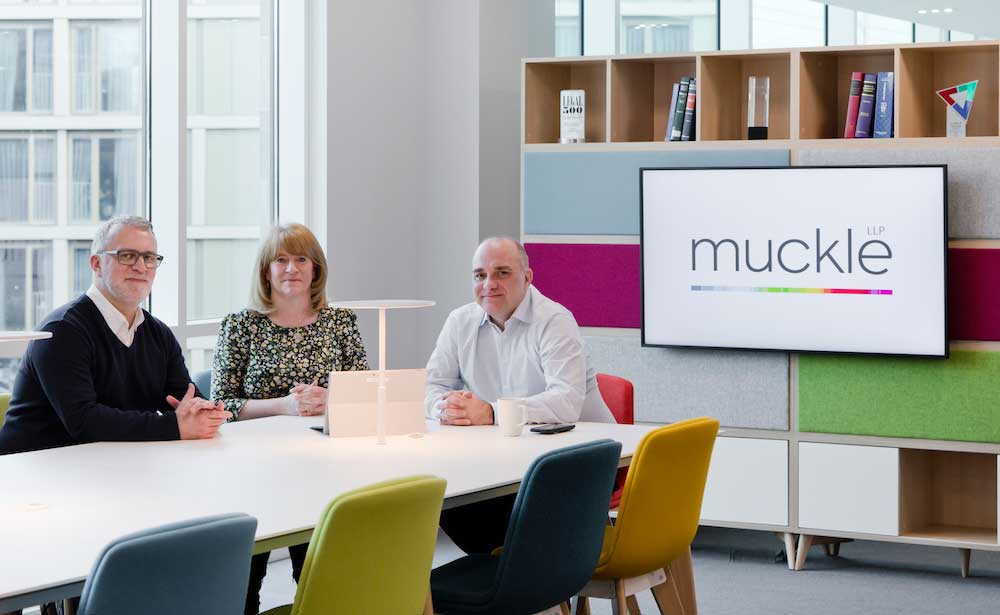 We are so excited to share our brand new innovative office, specially designed to boost agile working, connectivity and growth.
Designer Simon Grundy, who has worked with us for many years, created our exciting new space, incorporating feedback from over 150 people at Muckle in a series of specially structured workshops and consultations.
Now the 5th floor of our HQ at Time Central, Newcastle city centre, is a smart, open plan and flexible office for our entire workforce. A real 'home from home'.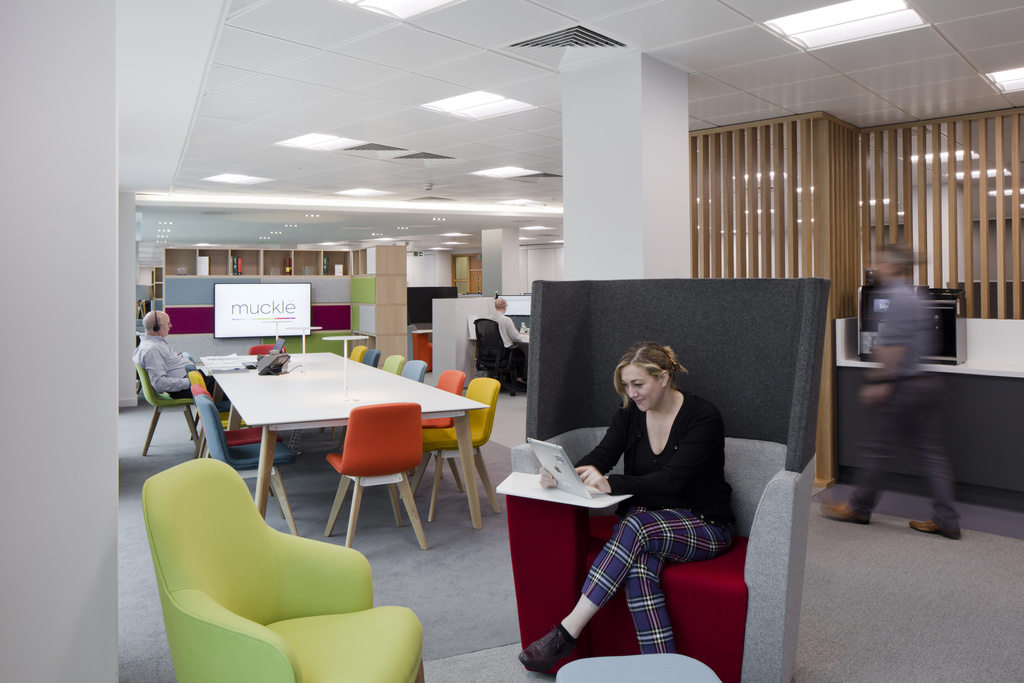 Connecting people
The transformation includes designated 'neighbourhoods' for individual teams to continue to work closely together.
Private meeting rooms, 1, 2 and 6 berth pods, quiet zones, large project and break out spaces and colourful lounge areas cater for a variety of needs while also creating multiple opportunities for cross-functional collaboration.
A 'spa quality' shower and a café have been installed to encourage relaxation and activity away from desks, supporting the firm's focus on health and wellbeing.
The new office also enhances our extensive use of technology, with Skype enabled meeting rooms and interactive screens throughout making it easier for its people and clients to stay connected on the go.
Freedom and flexibility
Jason Wainwright
, Muckle managing partner, said: "I am thrilled with our brand new office space - it's created a real buzz and our people are thriving without fixed desks or set office rules.
"Now we have a totally flexible space with cutting edge technology to help work as it suits us and our clients best, whether that's at a conventional desk, a quiet isolated pod, a large collaborative table with Skype enabled AV or a comfy sofa with inspirational views of Newcastle city centre.
"We know from our agile working policy, which we introduced over two years ago, that giving people more flexibility, more control of their lives and the freedom to be themselves and work as they work best, has had a really positive impact on employee engagement, client service and productivity.
"This office makeover increases our flexibility and means that, wherever our people or clients are, we can instantly connect face to face via the technology we've invested in.
"Ultimately, it helps us deliver an increasingly agile, personal and efficient service for clients and a positive workplace for the benefit of our people's wellbeing."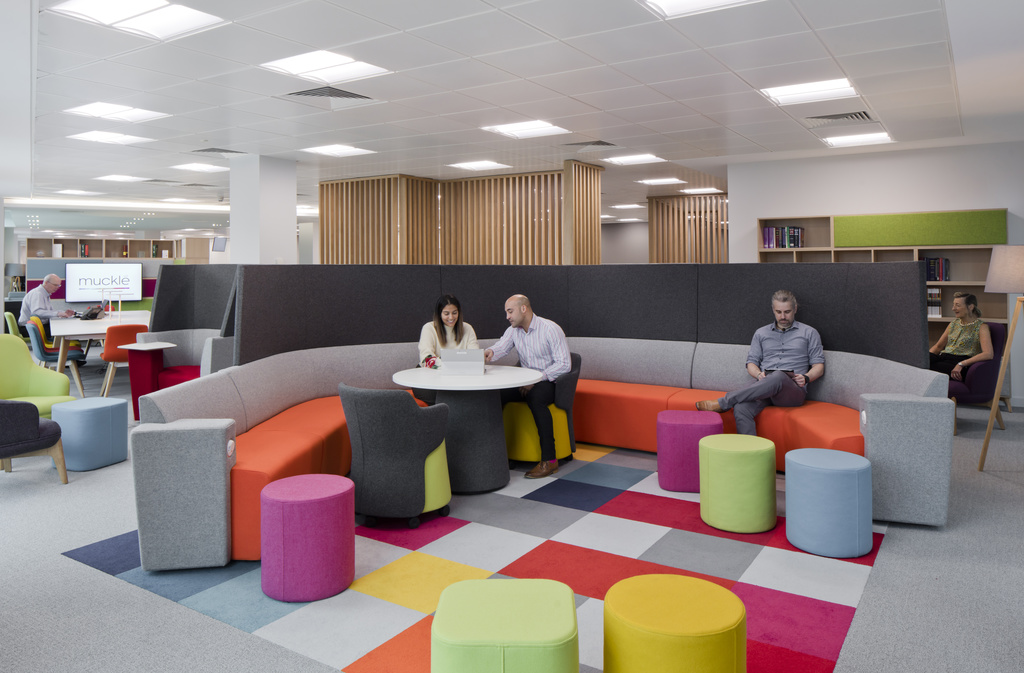 Home from home
Designer Simon Grundy said: "Muckle is an excellent example of a forward thinking business that cares about its people and clients and we have gone to great lengths to design a space that can adapt to a huge range of needs. The result is not a typical office space but an environment which has a real 'home from home' feel.
"There is a fine balance between creating a highly social environment that encourages collaboration and connectivity, with one that allows for quiet reflection, focus, and privacy - essential for many aspects of legal work.
"The spaces we've created represent an understanding of all generations' needs and different types of work. The design also supports the requirement for increasingly efficient, agile and innovative legal services."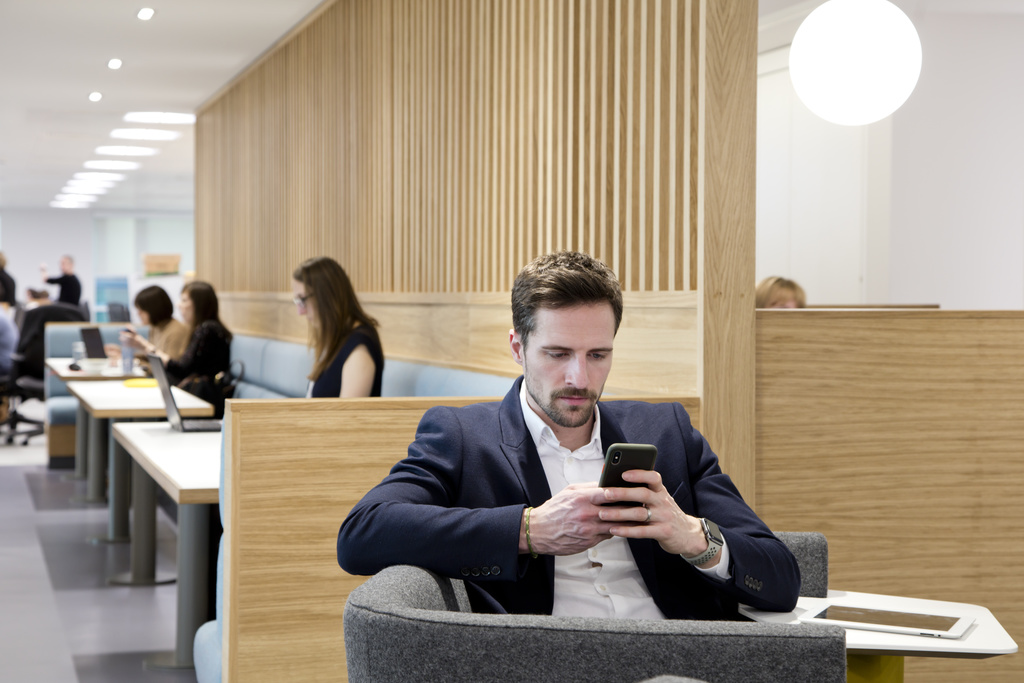 Innovative design and planning
Simon Grundy's vision for the office was supported by In Architecture, who created a special 3D experience allowing the team to view the concept design on a virtual reality headset and agree the final plans.
From the vibrant and noise-limiting upholstered furniture, manufactured by Orangebox, to the ethical carpet made from recycled fabric, every detail has been custom made.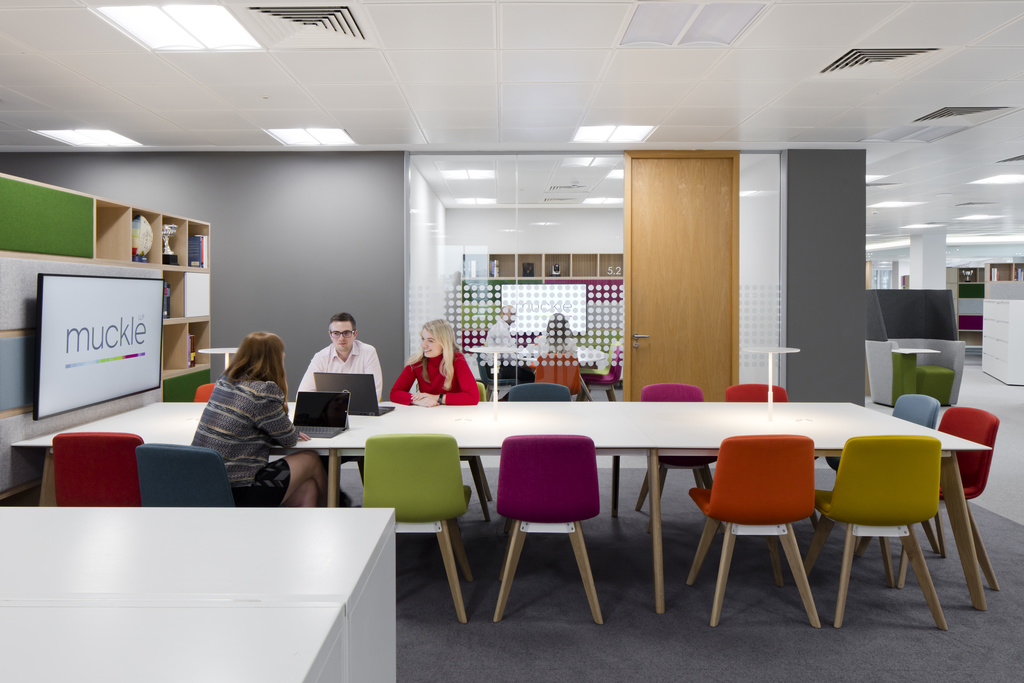 Fantastic feedback
Debbie McCormack, director of operations at Muckle who was responsible for delivering the project, added: "A huge amount of planning and preparation has gone into the project and Simon and his team have been fantastic to work with.
"Simon's industry expertise, creative ideas, understanding of our business and meticulous attention to detail have been key to delivering this complex transformation. The feedback from our people has been overwhelmingly positive and I'm sure it will help us to continue to grow, develop and innovate for years to come."
We are offering tours and talks on our office transformation over the coming months. Please email [email protected] to find out more.