Welcome to the Muckle LLP Employment Team's Christmas 2016 newsletter.  We can't believe it's 12 months since we brought you a Muckle Christmas Carol! Still a good read and it's amazing to see the predictions for "Employment law yet to come" already starting to filter through.
After the well documented trials for the world that 2016 brought, we thought we needed to lighten the mood…and have a disco!
Our thanks go to more than 25 of our Muckle LLP colleagues who provided us with over 200 (both appropriate and inappropriate) work related song titles.  Songs that didn't quite make the playlist include:
"Billionaire" by Bruno Mars
"I'm a lazy sod" by The Sex Pistols;
"Don't leave me this Way" by The Communards;
"Gimme, Gimme Gimme a Man [or significant other] after Midnight" by ABBA;
"Gold-digger" by Kanye West; or
"Things can only get Better" by D-Ream (not forgetting Professor Brian Cox, who is a particular favourite with some of the employment team) – We couldn't include this as we're not sure 2017 will be better!
So, please join us on the dance floor for our Muckle Employment Team Christmas Party Playlist.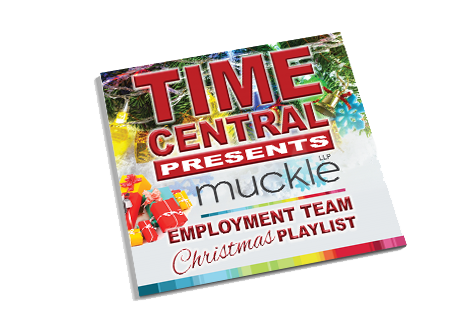 We hope that you all have a fantastic Christmas and Happy New Year!
The Muckle LLP Employment Team