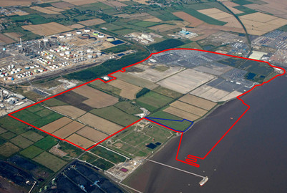 Dong Energy has signed a memorandum of understanding to build and operate an offshore wind facility.
The proposed manufacturing facility is to be at the 800-acre Able UK Marine Energy Park (AMEP) site at Killingham, North East Lincolnshire.  This will make Dong the 'anchor' operation and should draw in many other supplier organisations to the park.  Able UK has previously said that the AMEP scheme will create 4,000 jobs.
Planning consent has now been granted for the offshore wind farm at Dogger Bank, to be built off the North East Coast.  The Killingham facility is to include a large quay in preparation for this.  The planning consent comes at an uncertain time for the renewable energy industry as a whole following a series of Government announcements about reductions in financial support in other parts of the sector.  The Dogger Bank Teesside A and B offshore wind project is projected to include up to 400 wind turbines across two offshore wind generating stations, each with an installed capacity of up to 1.2GW.
Dong will be building the 1.2GW Hornsea Project One, 120km off the East Yorkshire Coast and the 580MW Race Bank Farm project off the Norfolk coast.  They will need over 100 turbines for the Dogger Bank and Hornsea projects alone.
Construction work has started across the estuary in Hull on a £310m wind turbine production site by Siemens.  In March work started to upgrade the roads to AMEP and the port of Immingham.  Siemens have welcomed the AMEP development and has said they could lead to a 'collaboration' with its wind turbine manufacturing and assembly project in East Hull.
Anne Keogh, Siemens head of external relations said: "Siemens welcomes this announcement as positive for the UK offshore wind industry and for the development of a green energy cluster around the Humber estuary.  Potentially, this could lead to further collaboration in the industry, increased UK content in the supply chain and, ultimately, to the key objective of reducing the cost of electricity generated from offshore wind."
For more information, help or advice please contact Andrew Davison on 0191 211 7950.