Welcome to the Muckle LLP Employment Team's Christmas 2018 newsletter.
It's that time again. Merry Christmas, everybody's having fun…..well apart from our politicians for whom working through Brexmas may become a reality in the coming days.
Last year we adopted the theme of "Keep calm and carry on" for our Christmas newsletter. We considered pantomime for this year's theme (they're behind me… oh no they're not Theresa), but we thought it best to take our inspiration from the classic poem "Twas the night before Christmas" instead. As usual, we've distilled our combined views on the key issues for employers to consider as we look forward (with some trepidation) into 2019.
We hope you find our Employment Team Christmas newsletter thought-provoking and, at the risk of straying into pantomime territory again, if you enjoy it then please do tell your friends!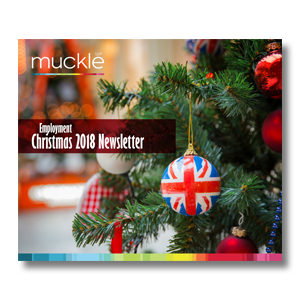 On behalf of everyone in the Employment Team at Muckle LLP, we wish you and your loved ones a very Merry Christmas and a prosperous New Year.
For further information, help or advice please contact Chris Maddock, or call 0191 211 7919.