Episode VII - Contracts and Insured Risk for Key People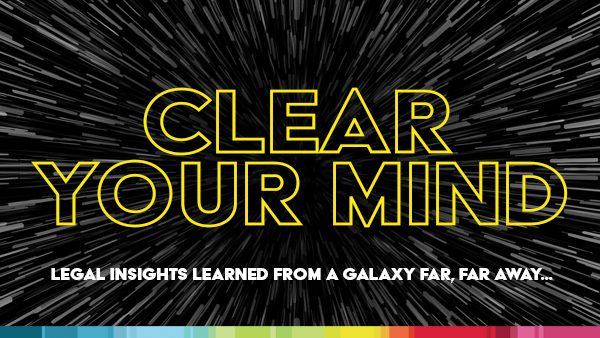 This final instalment of Clear Your Mind marks the launch of Star Wars Episode IX. Here, lifelong fan and sports and media lawyer - John Devine, shares what the saga teaches us about protecting your business if the unexpected strikes your star people. The force is strong with this one...
"Will he finish what he begins?" Yoda, Episode V: The Empire Strikes Back
Having mapped out the broad arc of the story before Episode IV: A New Hope was a global success, Lucas wanted to get all three movies comprising the original trilogy finished in as short a time as he could.
His principal lead actors were getting older and, he perceived, were at increasing risk at any time. This concern had been heightened when, towards the end of filming A New Hope, Mark Hamill (Luke Skywalker) was seriously injured in a car accident in Los Angeles and had reconstructive surgery, rebuilding his nose using cartilage from his ear[1].
This prevented Hamill from appearing in new scenes featuring Luke's landspeeder to be filmed in Death Valley, for which a double had to stand in. To explain Hamill's appearance in Episode V: The Empire Strikes Back, the movie starts on the ice planet of Hoth with the Wampa snow monster attack in which Luke is struck in the face and knocked to the ground from his Tauntaun.
The trouble with frustrated contracts
The accident and, most probably, the application of either the doctrine of frustration and/or 'force majeure' (no pun intended), released him from a pre-existing commitment to an ABC television comedy, Eight is Enough, which he had agreed to before release of A New Hope. ABC had threatened to "cancel the series and sue Hamill in a test case if he pulled out"[2].
TV and, in particular, movie filming is driven by fiercely tight schedules due to the inherent high cost of production, so any delay can have significant financial implications.
In general terms, a contract is 'frustrated' and may be discharged on the grounds of frustration when something occurs after the formation of the contract which renders it either (i) physically or commercially impossible to fulfil the contract, or (ii) transforms the obligation to perform into a radically different obligation from that undertaken at the moment of entry into the contract.
Hamill's hospitalisation and facial appearance would certainly have made it impossible for him to film at that time.
Can you feel the force majeure?
By comparison, a 'force majeure' clause typically excuses one or both parties from performance of the contract in some way following the occurrence of certain events.
Its ultimate underlying principle is that on the occurrence of certain events which are, broadly speaking, "beyond or outside a party's control", that party is excused from, or entitled to suspend performance of all or part of its obligations.
If such a clause applies, that party will not be liable for its failure to perform the obligations. Specified events can typically include acts of God, natural disasters, terrorism, industrial action and, as may have been contended in this case, Hamill's accident.
Protect your business
After the first movie, Lucas persuaded Mark Hamill and Carrie Fisher to sign up for two more to complete the intended original trilogy. Harrison Ford decided to sign only for one more so, at the time of filming The Empire Strikes Back, Lucas could not compel him to appear in the as yet untitled third movie.
In order to safeguard against Ford perhaps being reluctant to reprise his role as Han Solo for a third time, Lucas cleverly wrote in the Cloud City carbon freezing chamber scene to Empire.
This not only brings with it emotional weight and serves the story perfectly (although, incidentally, Ford ad-libbed Solo's parting words to Princess Leia), it also gave Lucasfilm a plausible contingency plan so that, if it came to it, Ford's absence could not derail Episode VI[3].
Whatever your business does, each of the scenarios above reminds us of the importance of both addressing contingencies in advance and insuring against future perceived risks.
This can be achieved by a combination of express contractual protection (as outlined above) coupled with 'key man' insurance, a specific type of policy which can be taken out by a business to compensate for financial losses that would arise from insured risks to that person, such as the death or extended incapacity.
Much easier than carbon freezing….
We hope you've enjoyed our Star Wars themed series of legal updates. For more information or advice, please contact Alex Craig using 0191 211 7829 or [email protected] to read more episodes click here.
Note: Star Wars®™ and all related character names are copyright © and the exclusive property and trademarks of Lucasfilm Entertainment Company Ltd. LLC, which are referenced here only for the purposes of the illustration of legal concepts in general terms only. Muckle LLP is no way affiliated to nor associated or connected with Lucasfilm Entertainment Company Ltd. LLC, Lucasfilm Ltd.™ or LFL Ltd.™ or any of their respective film(s) or franchise(s). This document and its contents are not endorsed by Lucasfilm Ltd.™ or any of its affiliates.
[1] Empire Building, p145, Garry Jenkins, Simon & Schuster[2] Empire Building, p145, Garry Jenkins, Simon & Schuster[3] Empire of Dreams documentary, Lucasfilm, 2004