Adjudication has been around for 20 years now and in our next series of briefings we will look at some of the more recent and significant developments in this fast moving world of adjudication. Default payment notices, natural justice and the enforcement of awards have all been considered by the Courts in recent years. Has it all become too complex to be effective and have the recent changes in legislation improved things for the industry?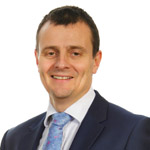 Keith Bishop, Partner, Muckle LLP
Keith is a partner and heads up the Construction and Engineering Team at Muckle LLP.
He has been involved in construction law since 1991 and is dual qualified as a solicitor in England and Scotland.
He acts for a number of public and private sector clients on both contentious and non-contentious matters.
Why attend?
This will be a practical, focussed session with an emphasis on what you need to know as a busy construction executive or professional.
Breakfast and refreshments will be available from 8.00 a.m. followed by the seminar and questions.
Please use the link below to register:
Yes, I would like to attend Sunderland – Thursday 18 May 2017
If you require any further information please contact Neena Reynolds in our events team or call her on 0191 211 7987.
Kind regards