Leading commercial law firm, Muckle LLP, is providing a breakfast seminar for London Universities Purchasing Consortium (LUPC) members on the new CDM Regulations 2015. Non-LUPC members are also welcome.
Muckle LLP is on the full services LUPC legal panel and is providing this legal update in London for free after being inundated with registrations for other seminars on this topic across the country.
The CDM Regulations 2015 are the principal regulations for managing health, safety & welfare of construction projects. They apply to everyone involved in construction and development projects.
The new CDM Regulations place significant and onerous duties upon the client. This is an important legal update on the new duties that will apply to anyone whose responsibilities include health and safety and/or property/estates and facilities management.
Muckle LLP's Construction and Engineering Partner, Keith Bishop, will highlight the key changes and run through the new CDM Regulations coming into force on 6 April 2015.
Why attend?
This will be a practical, focussed session with an emphasis on the structure and duties of the 2015 Regulations. The session will tell you what you need to know as a busy estates and facilities professional.
The changes impact on consultant appointments and building contracts as well as other agreements that may sit behind the construction documentation. These include agreements for lease, development agreements and funding agreements. Parties need to ensure that the obligations in these agreements are deliverable.
Refreshments will be available at 8.30am followed by the seminar and then answers to any of your questions.
Keith Bishop, Partner: Muckle LLP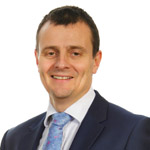 Keith is a UK wide construction specialist, in both contentious and non-contentious matters, being a dual qualified solicitor in England/Wales and Scotland.  He has a detailed working knowledge of most construction and engineering standard form contracts as well as in-depth experience of litigation, arbitration and other methods of dispute resolution such as mediation.  As a result he has a detailed understanding of the construction issues facing architects, engineers, surveyors and design contractors and their professional indemnity insurance.
Registration
These legislative changes are important to act upon so we welcome as many people as you require from your educational institution. Please register via the form below.
Please contact Jack Birks on 0191 211 7865 if you have any queries about this seminar.