Welcome to the Muckle LLP Employment Team's Christmas 2017 newsletter. 
In previous years, we have taken inspiration from sources as varied as Charles Dickens' "Christmas Carol" to Christmas cocktails and Christmas party compilation albums.  This year we thought that, especially given the UK, Europe and World political situation,  we would base our newsletter on another Christmas tradition, the Queen's Christmas Message. 
Her Majesty the Queen's Message, which is always broadcast at 3pm on Christmas Day as most of us are sitting around the lunch table or starting to feel the after effects, is 10 minutes long and picks up on strands of UK and World events in the previous year.  The message always has a theme, be it the Community or the Commonwealth and for us this year our chosen theme is "Keep Calm and Carry on".
So pour yourself a Drambuie, sit yourself down next to your 20 foot Christmas tree, help yourself to just one more Belgian chocolate and relax with this year's Employment 2017 Christmas Newsletter.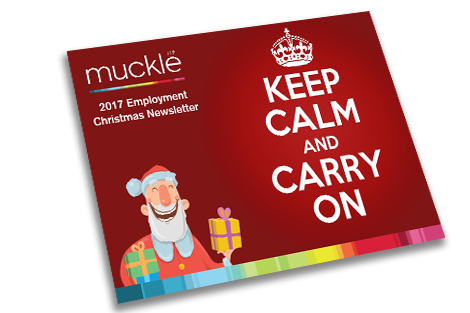 Wishing you a right royal Christmas and a majestic New Year!
The Muckle LLP Employment Team
For further information, help or advice please contact Chris Maddock, or call 0191 211 7919.