We've all been through it ourselves, so everyone at Muckle fully appreciates that getting a training contract can be a challenging, nerve-racking old business. That's why the good folk who comprise our Graduate Recruitment Team go out of their way to help make the whole process as friendly and enjoyable as they possibly can.
We aren't usually big on all that boring diagram/flow-chart stuff, but on this page we'll make an exception and as the following hopefully makes clear, there are two ways of applying for a training contract with us.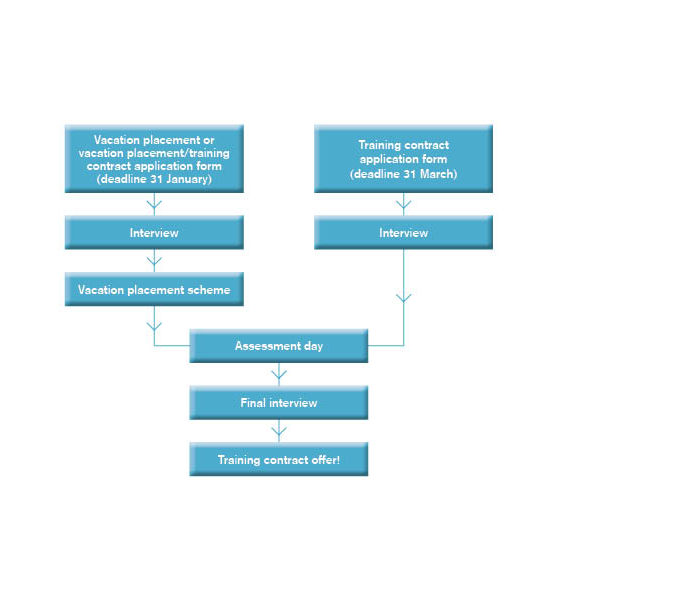 These two routes to a training contract are completely distinct and believe us, there isn't one that gives you a better chance of being more successful than the other. It is possible to apply for a vacation placement only, although most applicants cover both bases by applying for a vacation placement and training contract. But for anyone who does opt just for a vacation placement we will confirm with them at the end of their vacation placement that they want their application to be considered for a training contract.
The dates for the relevant parts of the process are set out in the Key Dates page and, as you might imagine, all the stages of the application process are crucial. Which means applicants must make sure they will be available at these times.
We believe feedback is very important. So the Graduate Recruitment Team is always happy to provide it when it is requested at any stage of the application. We also appreciate the competitive environment that candidates are in, and for those who are not successful we hope that by giving some constructive feedback it will strengthen their future applications to all firms.
The dates for our application processes are set out in the Key Dates page.
For more information please first visit our FAQs section. If you have any further questions then please contact Judith Birkett or email us.